A bathroom is a shared place. It should be enjoyable for every one of your houses. However, disagreements can sometimes arise about the aesthetics and design elements of this vital space. These can be caused by anything from important practical issues like usability or a lack of proper storage to basic taste and style issues. In this article, we are sharing some bathroom decor ideas for man and woman.
Remember that the key to a great bathroom design is to make it both functional and beautiful. Choose fixtures and decor that fit your personal style, but also consider factors like storage and lighting to make the space work for you.
Bathroom Décor for Male
When it comes to bathroom decor for males, there are a few different styles and themes that can work well. Here are some ideas:
Industrial:
Industrial-style decor can work well in a bathroom for males. Use materials like concrete, metal, and wood to create a masculine, rough-and-tumble look. Add in accessories like wire baskets, vintage signs, and exposed pipes to complete the look.
Sports-themed:
If the male in question is a sports fan, consider incorporating a sports theme into the bathroom decor. Use team colors, add in memorabilia like signed jerseys or framed photos, and consider using themed accessories like a basketball-shaped wastebasket or a baseball glove soap dispenser.
Minimalist:
A simple, minimalist style can work well for male bathroom decor. Keep the color palette neutral with shades of black, white, and grey, and focus on clean lines and simple, functional accessories.
Nautical:
A nautical theme can work well in a bathroom for males, especially if the individual is a fan of the sea or boating. Use navy blue and white as the main colors, and incorporate accessories like rope accents, anchor motifs, and sailboat artwork.
Retro:
A retro-style bathroom can work well for a male with a love of vintage style. Use bold colors like orange and green, and incorporate retro accessories like a rotary phone, an old-school clock, or a vintage radio.
The most important thing is to choose a style and decor that fits the individual's personality and taste. Whether you go for a sleek, modern look or a rugged, industrial feel, make sure it reflects the person who will be using the space.
Also Read: His and Her Bathroom Decor
Bathroom Décor for Female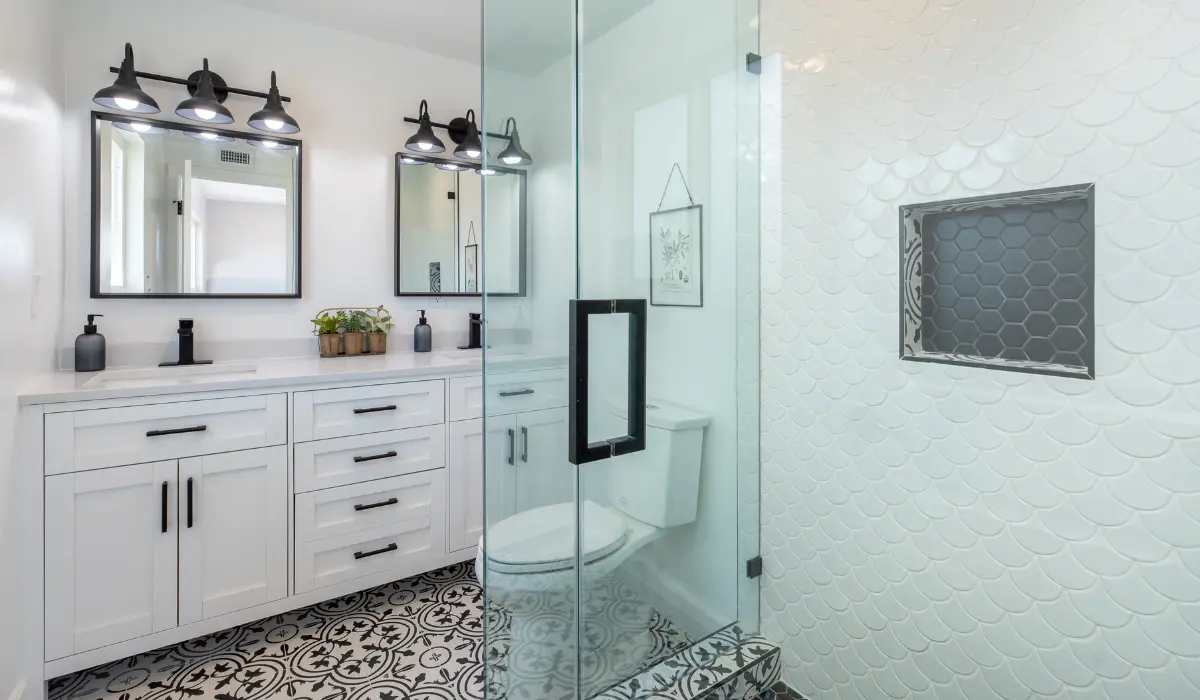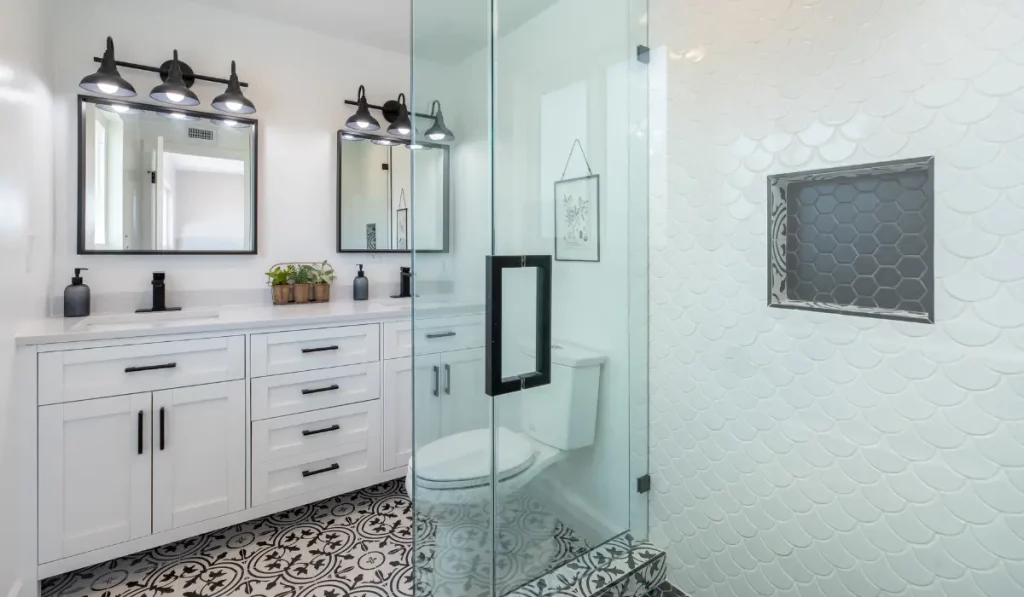 When it comes to bathroom decor for females, there are many different styles and themes that can work well. Here are some ideas:
Floral:
A floral theme can create a feminine and romantic atmosphere in a bathroom. Incorporate floral patterns on wallpaper, shower curtains, and towels, and add in some fresh flowers or a floral-scented candle to complete the look.
Glamorous:
For a more glamorous feel, consider using metallic finishes like gold or silver, and adding in some luxurious accessories like a chandelier, a velvet stool, or a plush bathrobe.
Bohemian:
A bohemian-style bathroom can create a relaxed and free-spirited atmosphere. Use natural materials like wood and rattan, and incorporate textiles like woven baskets, macrame wall hangings, and colorful rugs.
Vintage:
A vintage-inspired bathroom can create a charming and nostalgic feel. Use antique or vintage-inspired fixtures like a clawfoot tub or a pedestal sink, and incorporate vintage accessories like an ornate mirror or a crystal chandelier.
Coastal:
For a beachy feel, consider using a coastal theme in the bathroom. Use shades of blue and green, and incorporate natural materials like seashells and driftwood. You can also add in some nautical accessories like a ship's wheel or a rope towel holder.
Remember, the most important thing is to choose a style and decor that fits the individual's personality and taste. Whether you go for a romantic, vintage feel or a bohemian, free-spirited vibe, make sure it reflects the person who will be using the space.
Things to Consider Before Remodeling Your Bathroom
Remodeling a bathroom can be a big undertaking, so it's important to consider a few key factors before you start. Here are some things to consider:
Budget:
Determine your budget for the project before you start. Consider all costs, including materials, labor, and any unexpected expenses that may arise.
Purpose:
Consider the purpose of the bathroom. Will it be a master bathroom or a guest bathroom? Will it be used primarily for showering, bathing, or both? This will help you determine the layout, fixtures, and materials you'll need.
Layout:
Consider the current layout of the bathroom and whether it works for your needs. Think about whether you want to reconfigure the layout, move any fixtures or plumbing, or expand the space.
Functionality:
Think about the functionality of the bathroom. Consider the storage space you need, the lighting, and the ventilation. Also, consider whether you need to make the bathroom more accessible for elderly or disabled individuals.
Style:
Consider the style and design of the bathroom. Think about the color scheme, the fixtures, and the materials you want to use. Choose a style that fits your personal taste and complements the overall style of your home.
Timeline:
Consider the timeline for the project. Think about when you want the project to start and how long it will take to complete. Consider any potential disruptions to your daily routine and plan accordingly.
Contractor:
Consider whether you want to hire a professional contractor for the project. Make sure to research potential contractors, check their references, and get detailed quotes before making a decision.
Taking the time to consider these factors before starting a bathroom remodel
Fixtures and Fittings You Should Consider for Bathroom Remodeling
When it comes to remodeling your bathroom, there are many fixtures and fittings to consider. Here are some key ones:
Bathroom sink: This is an important fixture and comes in various types like pedestal, under-mount, and vessel sinks. Consider the material and style that will suit your bathroom's design.
Toilet: This is an essential fixture, and there are various types like the one-piece toilet, two-piece toilet, and wall-mounted toilet. You also need to choose the right size and shape for your bathroom.
Shower: You may want to replace your old bathtub with a modern shower unit. There are different shower types, including walk-in, shower cabins, and showerheads. Consider the style and functionality that best suits your needs.
Bathtub: If you prefer to keep your bathtub, you may want to update it to a modern design. There are different types like freestanding, drop-in, and alcove bathtubs.
Vanity: A new bathroom vanity can give your bathroom a fresh look. Consider the size, storage options, and materials.
Lighting: Good lighting is essential in the bathroom. You may want to install a combination of overhead, task, and accent lighting.
Flooring: The bathroom flooring should be durable, moisture-resistant, and easy to clean. Consider options like ceramic tiles, vinyl, or stone.
Wall tiles: Wall tiles can add visual interest to your bathroom. Consider the color, texture, and pattern that will complement your other bathroom fixtures.
Faucets and showerheads: Updating your faucets and showerheads can give your bathroom a modern look. Consider the finish, style, and water-saving features.
Accessories: Accessories like towel racks, soap dispensers, and toilet paper holders can add functionality and style to your bathroom. Choose ones that match the overall design of your bathroom.
Tips to Hire Right Home Improvement Contractor for Bathroom Remodeling
Hiring the right home improvement contractor for your bathroom remodeling project can be a daunting task. Here are some tips to help you find the right contractor:
Ask for referrals: Ask friends, family, or neighbors who have recently remodeled their bathrooms for referrals. They can recommend contractors they've worked with and give you insights into their experience.
Check credentials: Look for a licensed and insured contractor. Their credentials, including their certifications and qualifications, are important for a qualified home improvement contractor.
Check reviews: Look for reviews of the contractor online, on their website, or on social media platforms. You can also check with the Better Business Bureau for any complaints filed against the contractor.
Check their portfolio: Ask the contractor to provide a portfolio of their past projects. This will give you an idea of their style and quality of work.
Get multiple quotes: Get quotes from multiple contractors to compare prices and services offered. Make sure to ask for a detailed breakdown of the costs.
Ask for references: Ask the contractor for references from their past clients. Contact these references and ask about their experience with the contractor.
Communication: Ensure the contractor communicates effectively and is responsive to your queries. They should be able to understand your requirements and provide recommendations accordingly.
Contracts and timelines: Make sure the contractor provides a written contract outlining the scope of work, payment terms, and timelines. Ensure that you both agree on the project's timeline and what happens if there are delays.
Trust your instincts: Ultimately, trust your instincts when hiring a contractor. You should feel comfortable working with them and confident in their abilities to complete the project to your satisfaction.
End Words
Here we share only a few ideas for bathroom decoration and remodeling ideas. we hope this article will help you to remodel your bathroom.
Read More Article
Summary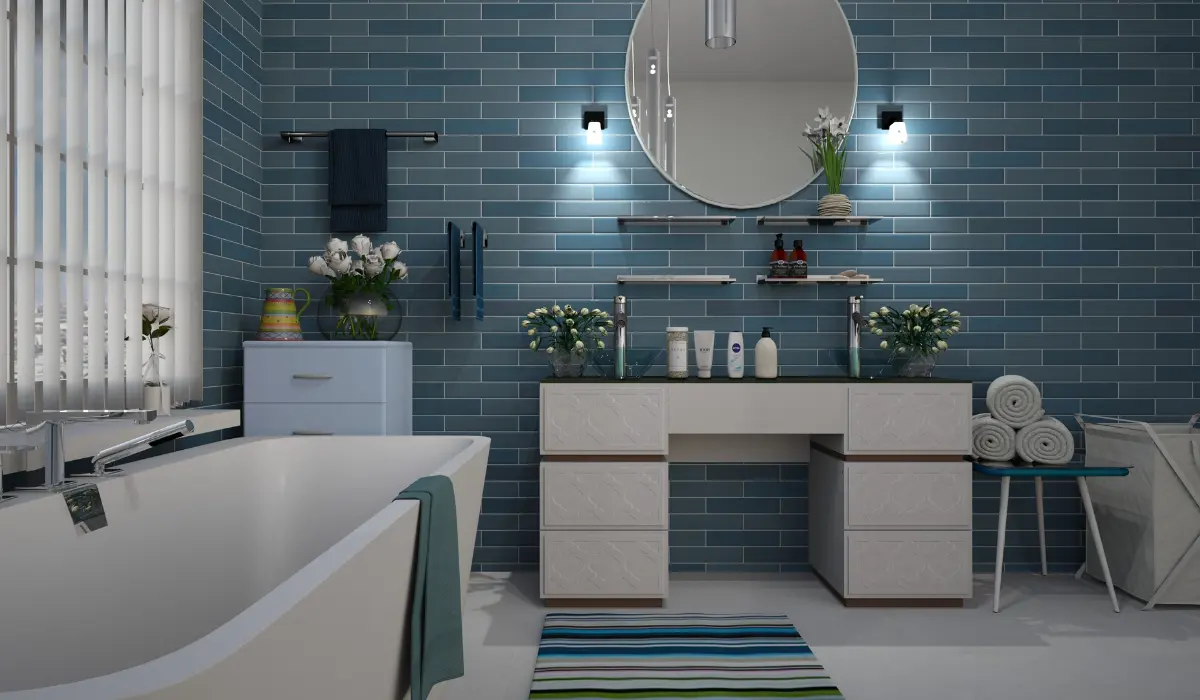 Article Name
Bathroom Decor Ideas for Man and Woman
Description
A bathroom is a shared place. It should be enjoyable for every one of your houses. In this article, we are sharing some bathroom décor ideas for man and woman.
Author
Publisher Name
Publisher Logo