In today's age, virtually everyone has become their own photographer, highlighting the increasing significance of photo editing skills. This is especially crucial for business owners who need to enhance their images to attract and engage their audience. While you always have the option to outsource photo editing, there is something uniquely rewarding about mastering the art yourself and becoming a pro at it. In this content, we will talk about top 10 free photo editing tools.
Let's jump into the deep:
What is Photo Editing Tools
Photo editing tools are kind of software applications or programs designed to manipulate, modify, and enhance digital images. These tools enable users to make various adjustments to photographs, such as improving colors, contrast, sharpness, removing blemishes, adding effects, cropping, resizing, and more. Photo editing tools are widely used by photographers, graphic designers, artists, and casual users to create visually appealing and captivating images.
Types of Photo Editing Tools
Photo editing tools can be categorized into two main types:
Basic Photo Editors: These are simple and user-friendly tools that offer essential editing functions like cropping, resizing, brightness/contrast adjustments, and color correction. They are often used for quick and straightforward image enhancements, suitable for casual users or those who need quick edits for social media, personal use, or simple projects.
Advanced Photo Editors: These are more powerful and feature-rich tools that provide a wide range of editing capabilities, including layers, masks, filters, advanced color grading, and specialized tools for retouching and compositing. Advanced photo editors are favored by professional photographers, graphic designers, and artists who require precise control over the editing process and want to achieve more sophisticated results.
Photo editing tools come in various forms, such as desktop software, mobile apps, and web-based applications. Some of the most popular and widely used photo editing tools include Adobe Photoshop, Adobe Lightroom, GIMP, Corel PaintShop Pro, Pixlr, Canva, and many more.
The choice of a photo editing tool depends on the user's skill level, specific editing needs, and the complexity of the project. For basic touch-ups and quick fixes, simple online editors or mobile apps might suffice, while professional photographers and graphic designers often prefer advanced software that offers a full suite of editing tools and flexibility.
Top 10 Free Photo Editing Tools
Here we are sharing about the top 10 free photo editing tools. Please note that software and tool availability might change over time, so it's always a good idea to check for the latest versions and updates.
GIMP
GIMP is a powerful open-source photo editing software with features comparable to professional tools like Adobe Photoshop. It offers advanced editing capabilities, including layers, masks, filters, and various tools for retouching and enhancing images.
GIMP was started in the year 1995. Spencer Kimball and Peter Mattis are the 2 founders of GIMP software.
Canva
Canva becomes very popular nowadays as a free image editing tool. Discover Canva, an exceptional free graphic design platform empowering you to effortlessly craft invitations, business cards, flyers, lesson plans, Zoom backgrounds, and much more through a collection of expertly designed templates. The process is user-friendly as you can seamlessly integrate your own photos into Canva's templates using a simple drag and drop interface. Imagine having a cost-free and user-friendly alternative to Photoshop, accessible without the need for extensive photo editing expertise. Let's explore all you need to know about harnessing the power of Canva.
At Canva, you'll find an expansive library of thousands of professionally designed templates available for free. With their intuitive drag and drop interface, customizing these templates is as easy as a few simple clicks. All you need to do is upload your photos to Canva, effortlessly place them into your desired template, and then save the finished file directly to your computer. The process is streamlined and user-friendly, making graphic design accessible to all.
Canva was founded in Perth, Australia, by Melanie Perkins, Cliff Obrecht, and Cameron Adams on 1 January 2013.
Adobe Photoshop Express
Experience the power of Photoshop without the cost with Adobe's free version, Photoshop Express. Uniquely, this software allows you to edit webcam photos, setting it apart from other programs. With a simple click, you can access features like red eye remover, cropping, and image correction. Moreover, achieving impressive touch-ups is effortless with just one click of the mouse, enabling you to create captivating fade and grain effects. Another remarkable feature is the ability to switch back and forth between the original photo and your edited work, providing a seamless editing experience.
As a bonus, Photoshop Express offers a tool that allows you to adjust the intensity of any image, granting you the freedom to enhance the vibrance and saturation of colors in your photos effortlessly. This unique tool sets it apart from other software and ensures you can produce stunningly vibrant and eye-catching results.
Krita
Krita stands as a remarkable free and open-source raster graphics editor, thoughtfully crafted for digital art and 2D animation enthusiasts. It boasts compatibility with multiple operating systems, including Windows, macOS, Linux, Android, and ChromeOS. With its OpenGL-accelerated canvas, color management support, and advanced brush engine, artists find themselves equipped with powerful tools for their creative endeavors.
Krita's extensive features include non-destructive layers and masking, facilitating safe and reversible editing. Group-based layer management streamlines the organization of complex projects. Additionally, the software supports vector artwork, further expanding its capabilities. Another noteworthy aspect is the option for switchable customization profiles, empowering users to tailor the interface to suit their unique workflows. As an open-source gem, Krita remains a favored choice for digital artists and animators seeking a versatile and accessible platform.
PhotoScape
If seamless navigation is your top priority, PhotoScape emerges as the perfect software for you. With its user-friendly interface, you can easily access a plethora of editing options such as Create GIF, Viewer, Combine, and Editor. When working with text and objects, the software provides the flexibility to add your custom elements or leverage the ones available within the editing program.
Unleash your creativity with a range of editing abilities, including a brush for creating captivating special effects. Moreover, the software offers tools like spot and red-eye remover, as well as a clone stamp tool to refine your images with precision. Enhancing your artistic vision, you can manipulate picture frames by adjusting their lines, margins, and even rounding them, adding a distinctive touch to your compositions. With PhotoScape's array of features, you can easily achieve stunning edits and enjoy a smooth editing experience.
Pixlr X
Pixlr Editor stands out as the foremost photo editing tool utilized by both novices and experts to craft and showcase their creative masterpieces. This convenient online photo editor empowers users to edit their pictures effortlessly, enabling on-the-go adjustments and seamless file transformations directly within their internet browsers.
In addition to its web version, Pixlr Editor extends its usability by providing iOS and Android applications, making it exceptionally versatile. Now, accomplishing your daily graphic tasks without relying on your computer has become more convenient than ever before. Regardless of your expertise level, be it beginner photographers, content creators, artists, or seasoned professionals, you can leverage this app while on the move to enhance your productivity and creativity.
PhotoDirector
PhotoDirector emerges as a user-friendly photo editing and adjustment application, granting you the ability to effortlessly incorporate effects and filters, edit, and enrich your images, or assemble captivating photo collages directly on your iPhone and iPad.
Equipped with a potent array of photo editing tools, PhotoDirector places creative control right at your fingertips, enabling you to enhance your photos right after capturing them. Moreover, you can instantly share your masterpieces with friends and family on platforms like Facebook and Flickr. This app allows you to eliminate unwanted photobombers, fine-tune saturation, enhance tone, and apply one-click photo effects, or even craft a striking HDR effect, leading to the creation of vibrant, stunning visuals while on the move. Remarkably, achieving remarkable DSLR-like results takes only a matter of seconds with PhotoDirector.
inPixio Photo Editor
InPixio Free Photo Editor offers user-friendly photo editing software suitable for everyone, allowing you to create professional-looking photos, perfect for sharing on social media or sending as postcards to your loved ones.
One of the key highlights of InPixio is its incredibly shallow learning curve, making it effortless for users to edit their pictures and apply a wide array of impressive effects quickly and seamlessly. Despite its simple and sleek interface, InPixio proves to be remarkably powerful and capable, exceeding initial expectations. It's a perfect choice for those seeking an accessible yet feature-rich photo editing experience.
Artweaver Free
Artweaver Free is a valuable graphic editor equipped with a comprehensive collection of artistic effects, empowering users to transform photographs into sketches and explore their creativity with a diverse range of brushes. The brush simulation within the software strives for a high level of realism, ensuring an authentic and immersive painting experience. Each brush comes with its own set of customizable tweaks and settings, granting the freedom to achieve various desired effects. Additionally, the software offers numerous adjustment settings, allowing users to modify default brushes or even design entirely new ones.
In its free edition, Artweaver includes standard image editing tools such as gradients, cropping, filling, and selection tools. Moreover, it offers a wide array of brushes, supports the saving and playback of events, allows users to arrange palettes as per their preferences, and provides multiple image and effect filters. Furthermore, Artweaver supports pen tablets, ensuring a smooth and efficient drawing experience, and offers virtual memory management to optimize performance. All in all, Artweaver Free is a versatile and powerful graphic editing tool tailored to cater to the artistic needs of its users.
Fotor
Fotor is a versatile photo editing software that offers three different versions: an online photo editor, a downloadable desktop version, and a mobile app for editing on the go. This flexibility allows you to choose the option that best suits your needs and even switch between them as you prefer.
With the Fotor web version, you can access the editor from any computer with an internet connection, ensuring easy and convenient access. On the other hand, the Fotor mobile app provides an exceptional photo editing experience right on your phone, making it one of the top choices among photo editor applications available today.
Fotor boasts three main functions: Edit, Collage, and Design. Notably, it excels in single image editing, enabling you to enhance and transform your pictures with ease. Moreover, the Collage feature offers a variety of stylish layouts, allowing you to effortlessly create beautiful collages in various styles. Beyond that, the Design element empowers you to delve into graphic design projects, producing impressive visuals for various purposes.
End Words
In this article, we talked about the best 10 free photo editing tools. There are many other free image editing tools available. As a beginner, you can use any free photo editing tool to develop your skill.
Read More Articles
Summary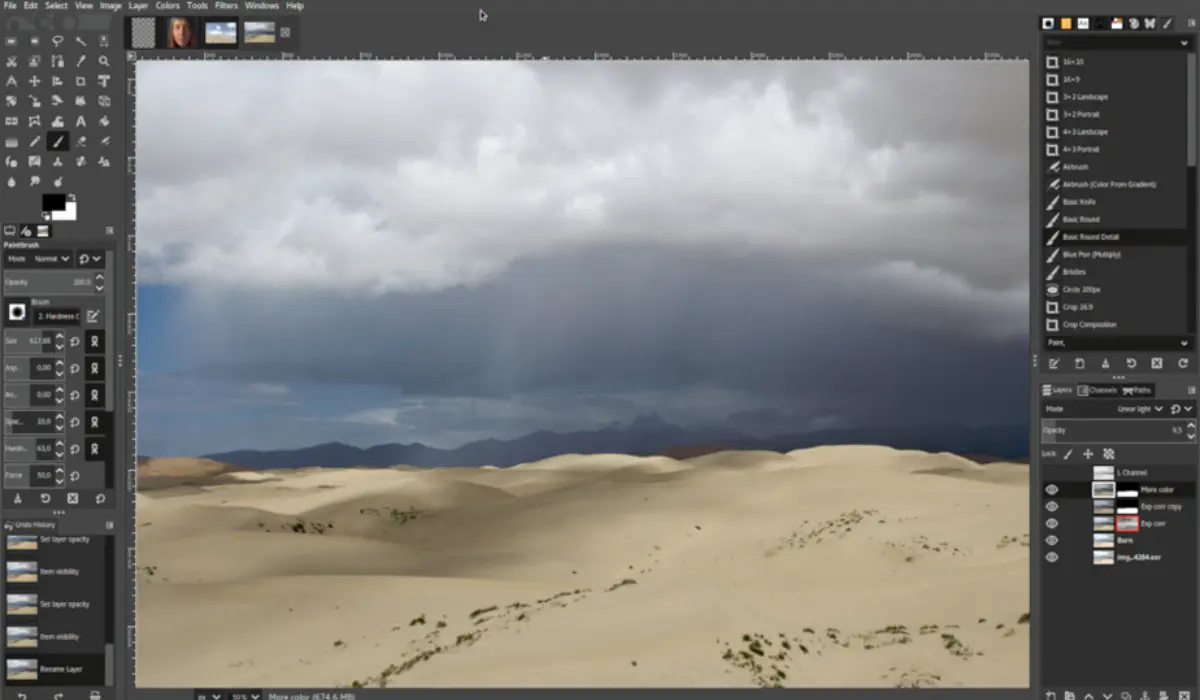 Article Name
Top 10 Free Photo Editing Tools
Description
In this article, we talked about the best 10 free photo editing tools. There are many other free image editing tools are available. As a beginner you can use any free photo editing tool for develop your skill.
Author
Publisher Name
Publisher Logo