Today I will show you the new trends in wedding photography using technology.
Photography is always evolving and given its nature, every year there are new innovations in all genres of the art. Photography is an amalgamation of science and arts and these two streams support each other to better the cause!
In this article, we talk about the newest trends in the wedding photography industry and how you can use them to make your photography package more attractive to your clients.
From the photographer's point of view, there are several trends that have taken off in the recent past that can be included in your photography package.
Adding these trends will increase clients and your photography services will look more updated and trendy. As people love to stay updated with the latest wedding photography trends. Let's discuss those briefly.
Drone Photography/Videography
Drones have become readily available to consumers and the prices for the same have decreased as well. This has allowed a lot of wedding photographers to invest in drones.
Drone photography allows a photographer or videographer to get angles that would not have been possible otherwise. Drones allow a photographer to go extremely high and shoot top-down or even take cinematic videos.
These drones have, with the advancement in technology, become more responsive, intuitive and are packed with features when it comes to the camera quality.
Photo Booths
Photo booths are set up at weddings to allow the guests to have fun along with friends and family. It is essentially an enclosed space with the camera setup.
Guests can take multiple photographs of themselves posing for the camera at the booth. In normal pay-to-click photo booths, one can pay and get a print of the image.
These photo booths usually are free to use and will show you the image on the screen. Some of these photo booths will also send you the image via WhatsApp or share via social media instantly!
Instant Cameras
Instant cameras have been revived from the dead and more and more youngsters are taking to it. Given that they are addicted to their smartphones, these tiny instant cameras give them the satisfaction of seeing the image instantly while also keeping the prints with them.
They are small, handy and fun to use. Many of the wedding planners these days as well as photographers' package multiple-use and throw cameras or instant cameras that they distribute to the guests.
The guests take photographs with their friends and family and return the cameras to the photographer. It is his or her duty to print the images (If it is a use and throw camera) or collect the instant photos and scan them to keep a digital copy of the same.
These cameras allow the photographer to cover more ground and get amazing candid photographs without even losing manpower!
Use of Props
Wedding photographers can also offer props with their package as it also enhances photographs and makes the event look fun and exciting! Signages such as "Dulhe Raja", "I'm with Groom/Bride'', "I'm drunk", "He's mine", "She said yes" etc. make normal photos extremely interesting.
These signages can be reused at weddings and can be a great one-time investment. It is also an instant hit with youngsters. You can get a pack of several of these for less than 500!
GoPro POV Shots
While this is quite unconventional, many photographers use GoPros to get extremely close to the bride and groom. From keeping GoPros near the Pooja fire to strapping them to the Bride or Groom's hands etc. can give very different and unconventional shots.
These shots can separate your portfolio from other photographers in the market, provided the couple allow you to do the same. Talk to them before the wedding and make sure they and their family members are okay with it.
Adventure Wedding Photography
Adventure sports are the latest trend to hit the Indian wedding market. Many pre- as well as post-wedding shots, are being done keeping the thrill junkies in mind.
From proposing on a bungee jump to proposing on a helicopter, these photography packages are being included by photographers these days.
Usually, all traveling costs are covered by the couple and their families and the photographer can charge for any extra expenses. These different packages allow the clients to choose from an array of options and make the photographer look professional.
Website and Digital Albums
This trend had started a few years back but has now taken over completely. In the age of globalization and digitization, having a digital album that is accessible to all makes much more sense.
Many guests at the wedding attend the event from other countries, taking a few days off of work. Thus, they are unable to see the physical wedding albums as it typically takes a month or so to finalize.
Thus, photographers, these days offer packages that include the creation of a free website that stores the photographs and videos of the wedding.
It becomes accessible to everyone around the world and allows for a great way to display the images while safely keeping them in the cloud without having to worry about it getting torn up or damaged in any way.
Proposal Photography
Wedding photography is no more limited to just shooting during the wedding festivities. It is also not just limited to shooting just before or just after the wedding. The packages can now also include proposal photography as well!
It is an extremely different angle into the entire wedding photography scene where the groom to hire a wedding photographer to cover his surprise proposal.
These events can include hiding cameras in plain sight to dressing up as a commoner in a crowded place while shooting using something as simple as a mobile phone!
While this trend will take some time to pick up in the near future, 2019 seems to have put this trend on a roll.
End Words
Hope you've liked our effort to highlight some new trends in wedding photography, these trends will also give you an idea about upcoming trends or setting new trends. Share your views and suggestions using the comments section below.
As the world opens up, photographers are heading out and doing what they do best–capturing the world around them and sharing it with others. Here's another great resource to read on photography trend for 2021.
Related Article
Summary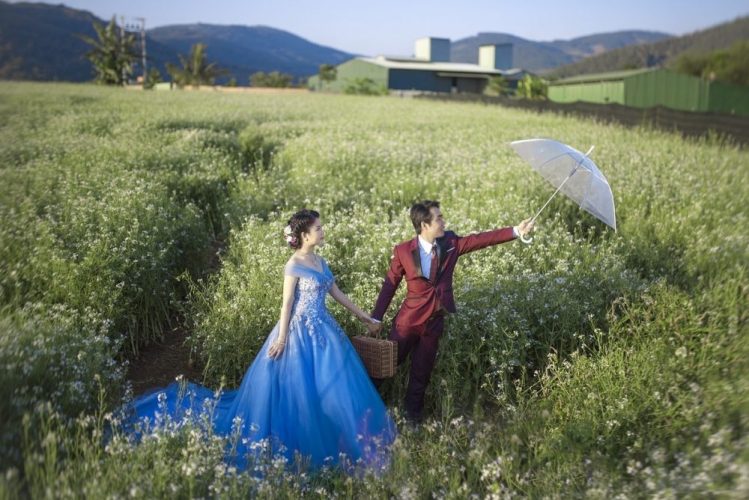 Article Name
New Trends in Wedding Photography
Description
Technology changes the concept of wedding photography.
Author
Publisher Name
Publisher Logo