The coronavirus pandemic strangled every bit of creativity and innovation from mankind. Our productivity levels went to zero and life just became a monotonous loop of binge eating and social distancing. Needless to say, each and every sector was drastically affected by the sudden emergence of the global pandemic. In this article, I am showing you how to survive the event industry in 2021.
Let's jump into the deep:
From hospitality to healthcare, people had to rigidly fight back to gain control of their life from this pandemic. One such sector that faced a lot of negative impacts was the event industry. The social distancing and travel restrictions just terminated the normal excitement of events. This was a quite tedious situation for event organizers around the globe. They were baffled with an uncanny problem in front of them.
Fortunately, some masterminds came up with brilliant ways to bounce back. This led to the innovation of the virtual world. In this article, we are going to talk about the challenges that the event industry still has to undergo and the ways to tackle all these complications. So, if you want to inspire yourself with the top-notch ways of the event industry, sit back, relax, and just continue reading further.
Post-Covid Practical Realities For The Event Industry
1) Social Distancing
With coronavirus still lurking in every corner of the world, social distancing is a must. In such a case scenario, hosting physical events with a large audience is a far-fetched idea. For the wellbeing of mankind, it is the responsibility of each and every organization to follow all the social distancing norms and take adequate safety measures. Although the world has welcomed the coronavirus vaccine with open arms, we cannot take the safety precautions leniently. Undeniably, it will take a quite long time for things to get back to normal before we can host large in-person events.
Solution – virtual and hybrid events
The world does not stop spinning, be it a pandemic or a global recession, right? In order to help you spread the words to your target audience and share your ideologies, you can utilize the potential of virtual and hybrid events. These events empower you to host innovative conceptualizing sessions while following the social distancing rules. Virtual events are extraordinarily curated digital events that take place through a virtual medium. They empower each and every individual to join from the comfort of their houses and gain valuable insights.
Similarly, hybrid events are also here to stay. These events are the perfect amalgamation of physical as well as virtual elements. These types of events allow few participants to be physically present at the event location and the rest of the interested candidates join through a hybrid platform. They are quite budget-oriented as well and comparatively more effective. Therefore, must give virtual or hybrid events a short this year.
2) Limited Reach Due To Travel Restrictions
As mentioned above, the world is still suffering from a lot of location barriers and travel restrictions. Individuals are not allowed to travel from one place to another. Trust us when we say, this is only for the sake of mankind! In order to make this world a safer place for the coming generations, it is our responsibility to respect all the restrictions and follow them thoroughly. But, we cannot oversee the drastic impact it has on the event industry. The event industry has to suffer from limited reach. Furthermore, even after the development of vaccines, individuals around the globe are still skeptical. They do not prefer to come out of the houses as the current scenarios are quite risky.
Solution – Reach Global Market Virtually
Fortunately, the virtual industry has just the right solution for this. Your organization can host specialized virtual and hybrid events. These events have been gaining significant popularity over the past few months. One of the main reasons behind this incredible success is their access to the global market. Yes, you read that right!
Virtual or hybrid event platforms guarantee to reach and attract global attendees. Their unique strategy empowers organizations to target a worldwide audience and spread their product as well as services effortlessly. This not only boosts interaction but also helps them in attracting a larger customer base.
3) Poor Networking Opportunities
Physical events offered a great opportunity for networking. We all are aware of the chit-chat that followed after heavy conceptualizing sessions. Physical events created a marvelous opportunity for individuals to interact and communicate with the brand representatives. Nevertheless, the covid-19 has affected the networking opportunities as well. Since individuals cannot come together at a physical location, it has become quite difficult to communicate and interact freely. This has terminated effective communication and resulted in poor networking opportunities.
Solution- Networking features in virtual and hybrid events
By now, you must have understood that virtual and hybrid events are quite tech-savvy innovations. They have been curated with the perfect features that help in innovating an incredible platform for networking. If your organization wants to maximize networking opportunities for the participants, you can definitely try virtual or hybrid events. These event platforms are bombarded with specialized features devoted to networking. You can amalgamate effective tools and equipment like networking lounge, B2B meeting, 1:1 meeting, business card exchange, and a lot more. All these elements will boost the networking at your event effortlessly.
4) Challenges in Engaging Audience
The number of in-person events has drastically reduced. Quite a few organizations are opting for physical events which require participants to gather at an actual location. In such a case scenario, they are bound to follow all the social distancing rules and regulations. This implies that the participants have to sit at an adequate distance, sanitize regularly, wear a mask, avoid touching the surfaces and the list goes on and on. All of this added pressure decreases the retention power of candidates. This leads to poor engagement of the audience. Thus, the organizations fail to convey their points even with the help of physical events.
Solution- Engaging features in virtual and hybrid events
In this case, scenario, hosting virtual or hybrid events is definitely recommended. Not only are virtual or hybrid events quite light on the pocket, but they are also comparatively more engaging. If you're confused about how online sessions can be engaging? Don't worry, as we have answers to all your queries. The virtual, as well as hybrid event platforms, have been strategically designed. Therefore, these platforms amalgamate all the essential features from networking to engaging.
With that being said, you can easily utilize top-notch engagement features like gamification, live question and answer session, live surveys, live polls, and a lot more. All these elements contribute to a better involvement from the audience.
5) Difficulty In Keeping An Accurate Track
The social distancing rules are like added restrictions for the event organizers. On top of this, there is the responsibility to come up with accurate information in order to facilitate the sponsors and exhibitors. While hosting a physical event, the entire location becomes haphazard of chaos and confusion. This eliminates the extraction of accurate data. This is so because event organizers are unable to focus on the audience and keep them engaged. Therefore, keeping a track of all their moves and queries becomes quite a tedious task.
Solution- Data Tracking features in virtual and hybrid events
In order to effectively tackle this situation, you can incorporate dedicated features in your hybrid or virtual event platform. Specialized tools and equipment like AI matchmaking, attendee footprinting, access control, and so forth will help the organization to conveniently track each and every move of virtual attendees. They will also be able to extract crucial information like views per click, interested candidates, scheduled meetings, and so forth. All this information results in a more convenient functioning of the entire event. This creates a positive image in the minds of the sponsors as well as exhibitors. Additionally, accurate data creates a reliable image which is beneficial for the long term.
Wrapping Up
Last year the world was exposed to a global pandemic. We all are well aware of the impact coronavirus had on our life as well as the economy. Needless to say, this pandemic affected a majority of industries around the globe.
Unfortunately, the event industry was one of the prominent ones to be negatively affected by this. But the masterminds in this sector miraculously turned the entire situation to their benefit.
In the above-mentioned article, we have talked about the challenges faced by the event industry post-Covid-19. Moreover, we have also talked about some post-COVID practical realities or effective ways to tackle this inconvenient situation. We trust that this article will provide you with some extraordinary information and help you face complex challenges with utmost ease and motivation.
Related Articles
Summary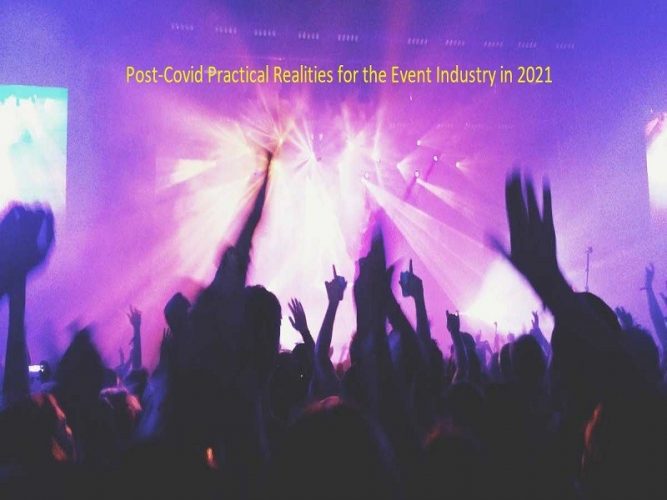 Article Name
Post-Covid Practical Realities for the Event Industry in 2021!
Description
The coronavirus pandemic strangled every bit of creativity and innovation from mankind. Our productivity levels went to zero and life just became a monotonous loop of binge eating and social distancing. Needless to say, each and every sector was drastically affected by the sudden emergence of the global pandemic.
Author
Publisher Name
Publisher Logo