Gone are the days that you have to trade goods physically. Once thinking of such a business platform was like building a castle in the air but it is now super possible and convenient. You don't need to go physically to a store to get your required goods – just pick, click and buy from any online website. To start an online business you don't have to go for a big one. There are some best eCommerce platforms for small businesses with you can start your own business. Let's talk about some famous platforms that will help you to create an online store to start a business in no time.
Let's jump into the deep:
Why go for an Ecommerce platform
Through an eCommerce platform, you can do any type of commercial transaction via the internet. This platform includes big marketplaces like eBay, Amazon, different websites, mobile apps, social media platforms like Pinterest, Instagram and Facebook, etc and the list goes on. The best thing about an online business is trading is possible anytime and anywhere.
Here are the benefits you will get through an eCommerce platform:
You don't need to invest a huge amount at a time to start an online store. Create a store with the ready template in any marketplace like Squarespace, Shopify, and Amazon, etc. you don't need to be techy to run these marketplace websites, follow the instructions properly and strictly follow the rules. Your online business is ready to grow.
Investing huge money is not always required to start a business. Ecommerce lets you start with a small and gradually bigger store. You can start your business with $20 per month and by using organic search and social media, your online market will grow.
People are getting used to online shopping for fast and easy options. The best thing about online shopping is that you can compare brands, prices, and reviews from different websites and pick the one that meets your budget.
The good thing about online business is you can collect different data easily to understand the hype, experience that helps to grow business. By this, you can get new customers daily.
Why e-commerce is best for small business?
If you want to start a small online business, eCommerce is the best platform to start. Because:
You can create a modern online store with the given customization theme. This platform allows you to design per your requirement.
On this platform, you can design your website with goods and sell them online and offline.
You can order, sell, track and ship your goods internationally even without any physical shop.
This platform works with social media to gather customers internationally. You can use an app to make the collection quick.
Allows you to start with a low budget.
What features make the e-commerce platform best?
If you are totally new to the e-commerce platform then you have to know about the important features that will help to make the decision about your online business.
The cost of your online store depends on the size and goods. On some websites, you can start with a free subscription and invest later which is a big thing for new starters.
In this platform, you will be introduced to some important built-in SEO tools that will help you to grab the attention of your customers.
Don't think that your business will stay small always. The eCommerce platform will help to boost your business.
The eCommerce platform allows customers to visit your online store from a smartphone. Believe it or not, maximum online customers come through mobile phones.
You may think that your website will get slow for the hundreds of product photos and videos. If you design your website with an e-commerce platform, the site speed will stay fast as the media will load fast.
The eCommerce website has to deliver user-friendly features so that customers can visit and buy with a pleasant experience. It is important to make them feel satisfied to get back your store again.
The best eCommerce platform for small business
Now for the main part, the website platforms. Till now we know about what we need to consider while designing the site in this platform, to pick the right one pick up from the listed ones given below:
Shopify
Among all the platforms, Shopify is the favorite one that promises stable online business growth. It is a one-stop theme that allows you to custom the domain, logo and design your product set up per your requirements. This platform allows you to sync orders from big markets like Amazon and eBay.
Pros:
Free to start with
Lots of free themes are available
Tons of plugins are available
In the plans, you will get unlimited products
The payment options are combined
The best option for all types of business plan
Cons
Not for blogging
Wix
To get the best performance with value, Wix is the one to pick. This platform is a play zone for creative ones. You can design your online store in any way you want. You will have full control of the site without any problem.
Pros:
Numerous high-quality themes with customization option
Different payment options for the customers
Dozens of plugins and apps to pick
Starts with the free subscription
Full of coupon codes and discount features.
Cons:
Do not allow to add extra features.
Square online shop
If you like to run both online and offline stores then square online is the best platform for you. This platform is easy to use and allows you to build a professional online store that will support your offline shop also.
Pros:
Easy for square ecosystem users
For beginners, it is easy to operate
Allows to use for both offline and online shop
The management tools are fantastically listed
Great UI design
Cons:
Payment options are limited
Squarespace
This platform works with different advanced features that help to connect the website with different social media. You can customize the website with an eye-catching portfolio and can change the style per your need.
Pros:
Dozens of templates to choose
Affordable business plans
Annual plans with free domain
Social media combination option
Cons:
Allows Limited payment platforms
Bigcommerce:
If you want to sell your products on different platforms online then bigcommerce is the best one to use. You can explore different online marketplace through this platform.
Pros:
In-built marketing tools
No fees are required
Unlimited bandwidth and storage
Numerous selection to pick
Cons:
Sometimes hard to control for new users.
Godaddy
The simplest eCommerce platform is GoDaddy that allows starting a small business. This platform doesn't require a high-quality website for business. You can put your simple website online through this platform easily.
Pros:
A convenient platform to use
Excellent speed
Hosting is included
Cons:
Don't come with advanced features
Yo!Kart
Yo!Kart is the leading eCommerce platform that enables business owners to build future-proof multi-vendor marketplaces. Whether you are looking to build a marketplace for physical or digital products, Yo!Kart has the right set of features for it.
Pros:
Separate store-fronts for vendors
Best User-Interface design
Ready mobile apps
Pre-integrated APIs
Lifetime license & Source code ownership
Cons:
Quick eSelling
Quick eSelling is a fully managed and hosted eCommerce platform. The free ecommerce platform enables retailers to start their own eCommerce stores instantly. It comes with rich features and intuitive mobile apps for a better shopping experience.
Pros:
· Zero coding experience is needed
· Multichannel CRM to manage website & apps
· Multiple payment gateways
· Pre-integrated APIs
Cons
· Limited themes and addons
Conclusion
If you are new to the idea of running an online business then you have to pick the best eCommerce platform for small businesses. Because without the platform, it will be hard to run a successful online business. Nowadays online business is getting popular among people. To make your small business flourish you have to pick the right platform.
Related Articles
Summary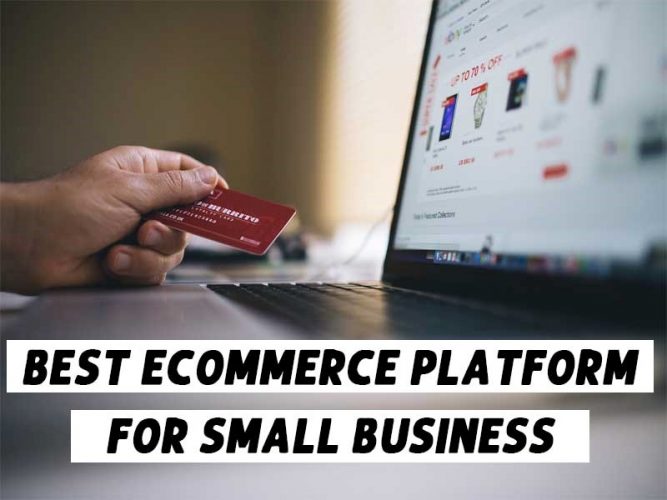 Article Name
Best ecommerce platform for small business
Description
To start an online business you don't have to go for a big one. There are some best eCommerce platforms for small businesses with you can start your own business. Let's talk about some famous platforms that will help you to create an online store to start a business in no time.
Author
Publisher Name
Publisher Logo