Research shows that more than 70% of users don't even visit the second page of Google search results. It is important that your website ranks on the first page of Google to ensure that potential customers can find you online. It is not only for your brand but also for other keywords. Here we are talking about the benefits and features of the SEMrush SEO tool.
SEO or Search Engine Optimization is the specific name for optimizing your website for search engines. If your website doesn't rank on the first page of SERP for your top product or service, you can use tools like SEMrush to improve your ranking. In the ultimate guide to SEMrush, we discuss the various benefits of the software, how you can use it to optimize your website, and where to start if you're new to the software.
What is SEMrush?
SEMrush is possibly the most popular SEO tool available on the market. It is a set of multifunctional tools to help you increase your online presence and keep your marketing ideas. Many digital marketing and SEO professionals use SEMrush because:
It provides competitors' key data on paid and searches strategy
Offers keywords and link building suggestions which helps with SERP ranking
Generates websites audits with critical errors that need attention
Benefits of SEMrush SEO Tool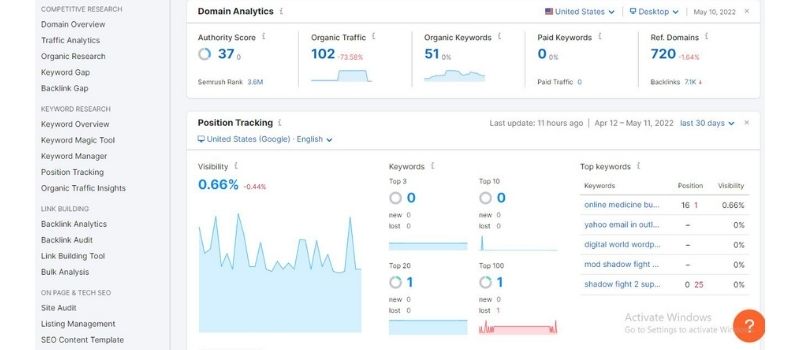 SEMrush offers many advantages for companies and institutions. The easy-to-use software simply saves your website as a "project" and under each project you will find the tools chosen for that particular website.
Here are some advantages that make SEMrush one of the most popular digital marketing tools.
Easily Monitor and Manage Your Organic Rankings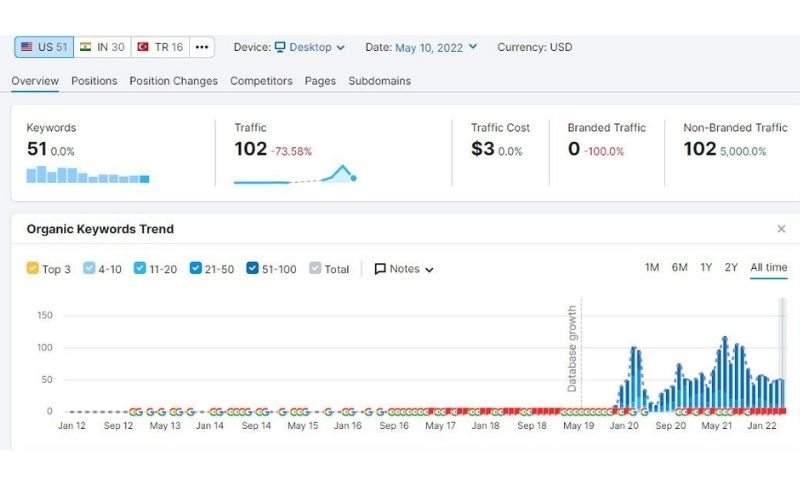 By using SEMrush you will easily understand your website's visibility status, top keywords, and competitors' position on the SERP. SEMrush also shows your organic ranking on desktop and mobile. You can track the performance of your keywords over the past 7, 30, 60, and 90 days to see what is improved and what is decreased.
Develop Compelling and Creative PPC Campaigns
If you are using Google search ads, you know how important it is to decide which keywords to bid on and which ad group they belong to. Also, there is little space in your headline and description for people to click on your ad. With SEMrush, you can analyze your competitor's ads, create new and compelling ad copy, and assign the new ads to a group. Search by keyword. You can also search for keyword variations, view search volume, and trends, and add new keywords to your ads. It only takes a few clicks to bundle. The SEMrush PPC tool can help you improve your overall paid search strategy.
Take Your Content Marketing to the Next Level
SEMrush is a great tool for showing which keywords are performing well and driving traffic to your site, and which ones need improvement. It provides insights for specific pages that need optimization, including content, strategies, backlinks, technical SEO, and user suggestions. It's easy to see what your competitors are doing for similar websites. If you have toxic backlinks that mention your brand on the web and you find quality backlink opportunities, you can also view a list of websites that link to your site, mainly to improve your SEO and content strategy.
Create Simplified Reports
You can easily collect data and export it as easy to read PDF report or Excel sheet with SEMrush. Customize reports as required also possible with it. SEMrush provides easy to understand, simple report that your entire team will love. You can easily share the report via email with your team members and clients.
Analyze and Track Social Media Effectiveness
Social media marketing is essential to building a brand online. Images, videos, posts, stories, ads, and customer interactions on your social platforms can influence how potential customers perceive your business. With brand monitoring, SEMrush tracks every mention of your brand on social media. This will help you understand if there are challenges or opportunities for impact marketing. Also, you can track your social audience and their activity.
SEMrush Features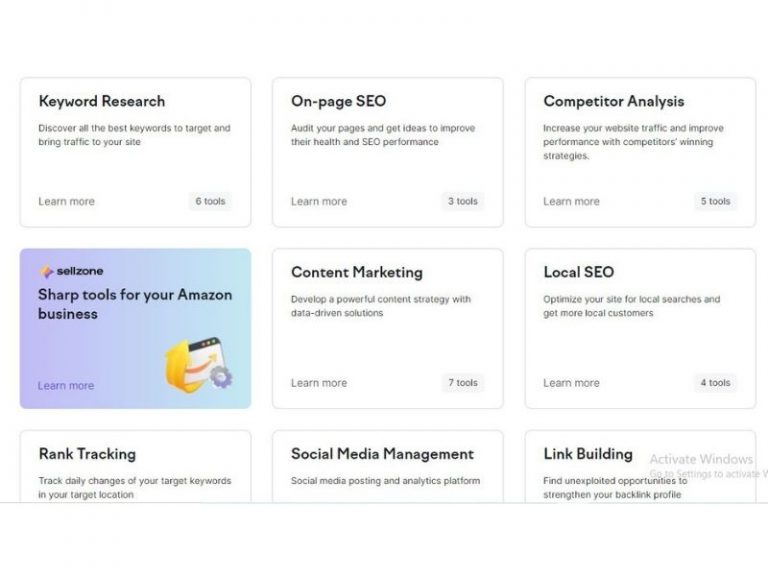 Now that you understand how SEMrush can benefit your business, how can you put these ideas into action? We've listed some of the software's most popular features below to help you understand exactly how to drive more traffic to your website from potential customers.
Domain Overview
The domain overview tool is the best feature of SEMrush. It allows you to view the key status of your own website and competitors' websites. With this tool, you can understand what your competitors are doing and where you have to improve. SEMrush domain overview tool is very easy to use; just the domain name you're interested in and it will display charts and data on organic traffic, paid traffic, ranking keywords, traffic country, competitors, backlinks, etc.
Position Tracking
One of the most popular position tracking tools is SEMrush Position Tracking Tool. Make a list of top keywords, products, or services that you want to appear on the first page of Google. Make sure you select your desktop or mobile device and specify your area of ​​service. It can be a country. , state, city, or zip code. The location tracker tool shows your location in an area and whether your keywords are included in SERP features. The set of data on which the page's keyword rankings and position differences are based between the selected periods. This allows us to have real-time SEO conversations with clients, which is innovative. The best part is that you can add competitors and see how they rank for the same keywords. In the position distribution you can see with which keywords you rank in the top 3, top 10, top 20, and top 100 and where you stand in comparison to us. We like this tool because it can help you visualize which keywords should work and how it works. SEO changes affect your website.
Traffic Analysis
Website traffic analysis is very important for improving your website's performance. SEMrush offers a traffic analysis tool. It shows the number of visitors visiting your website within a certain period of time, the number of pages viewed, traffic country, visitors spend time on the site, bounce rate, devices used by the visitors, traffic source, etc.
Keywords Research

Use SEMrush's keyword research tool to learn everything you need to know about trending website keywords and understand trends in organic and paid search. You can use this tool to customize your current campaign, but you'll definitely want to use it when creating a new one. SEO or PPC. Just enter the keywords or phrases you want, and you'll see search volume, difficulty, the average cost per click, keyword changes, questions, and related keywords. You can use this data to determine if the keyword is what you're competing for or when another type of keyword is more appropriate.
Market Insights
Marketing research is a great way to get a competitive advantage. You can easily get data on the industry's competitors, game changers, and mature niche players with SEMrush. You can understand what you have to do to increase your market share. With the SEMrush market insights tool you can see which domains are receiving the most site visits, strategies for generating traffic to the market, and the target demographic data such as age, gender, interest, geolocation, etc.
Pricing
SEMrush SEO tool is not very costly. As well as it is offering a free trial. Here you can see the pricing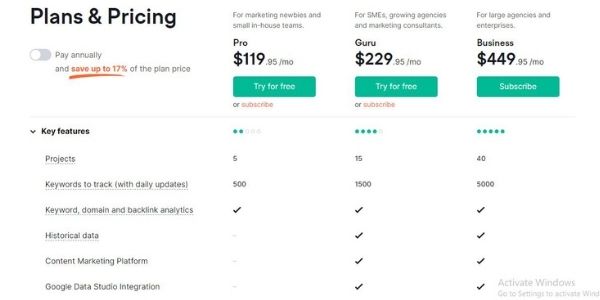 Read More Articles
Summary
Article Name
Benefits and Features of SEMrush SEO Tool
Description
Research shows that more than 70% of users don't even visit the second page of Google search results. It is important that your website ranks on the first page of Google to ensure that potential customers can find you online. It is not only for your brand but also for other keywords. Here we are talking about the benefits and features of the SEMrush SEO tool.
Author
Publisher Name
Publisher Logo