As we titling, our today's discussion is SEMrush Vs Moz, and hope this will help you to decide the appropriate one for your next journey.
In the very beginning, we (our team including me) were doing our SEO jobs using free SEO tools available in the market and after some days as time going, we were getting more experienced and realized what we were doing only supporting our clients because using free SEO tools you are unable to dive deep into the SEO Planet.
After the realization of using pro tools, we find out the tools, which we are still using professionally and they are working amazingly for us. Don't worry, today, I am going to describe ins and outs of those tools to you and hope, after going through this article you will be able to make your decision which is going to be your next SEO tool.
What we all know is we can grab more traffic into our hard owned content by search engine optimizing but it's heartrending when we see the dramatic ranking fall of our content due to search engine's algorithm updates. Usually, search engines and social media always keep continue their algorithm updates, and accordingly, you have to keep going your SEO work along with them to keep intact your ranking otherwise all of your hard labor behind your top-ranking content will ruin in seconds.
Excuse me, what you are thinking about? How you will keep continuing your SEO works? Yes if you use free tools then you may lose hope often. But don't be demoralized always be optimistic, we all know, the light comes after darkness. It's a blessing for us there are lots of SEO tools waiting for us and yes, there also have some problems to short out the best one because everyone is claiming them as the best one. Although they all are full of a variety of tools that's work in different ways. So you have to be more cautious to use them.
We can broadly divide all SEO tools into two types one is analytical focused and another one is optimization focused. We have an article detailing Search Engine Optimization where you may learn something unique.
Anyway, today we are going to unveil two great SEO tools which are enlightened themselves with their different types of strong features. It's an honest comparison presented to you and hope after going through the whole scenario it will be easy to take the decision which one will be appropriate for you.
Let's dive into the detailed scenario and yes before the dive need your deep concentration for your better understanding.
Now we are going to put an honest comparison between two high-quality SEO tools SEMrush Vs Moz.
Let's start the journey.
At first, we should learn about the tools definition and a summarized description before comparing them.
What is SEMrush?
SEMrush was created in 2008 for their self-marketing campaign but as days passed now they have grown as a team of around 800 professionals with the maximum possible set of tools for the marketers in each possible area of internet marketing. SEMrush is specialized in analyzing and increasing online visibility and SERP ranking optimization.
Nowadays many internet marketing experts believe that SEMrush provides the best return on your investment.
What is Moz?
Moz is nothing but all about a journey to today's Moz from SEOmoz started in 2004 by Rand Fishkin and Gillian Muessig. As time evolves in 2013 SEOmoz converted to today's SEO brand "Moz" purposing their big marketing effort. At the very beginning, SEOmoz was stated with blogs and a community where the world experts shared their ideas. Moz introduced the Beginner's SEO guide, which is still treated as an SEO Bible and they also released their first "search ranking factors" study which is still counted as an important resource to the world SEO industry.
Today Moz is a very high-profile SEO and Internet marketing tool having a suite of campaign-based tools called Moz Analytics which includes features for content, brand management, and social media along with links and rankings.
Before using any tool you need to be well known about its strength and weakness and that will help you a lot to decide which is better for you.
Let's have a look at the strength and weaknesses of SEMrush and Moz:
Strength analysis: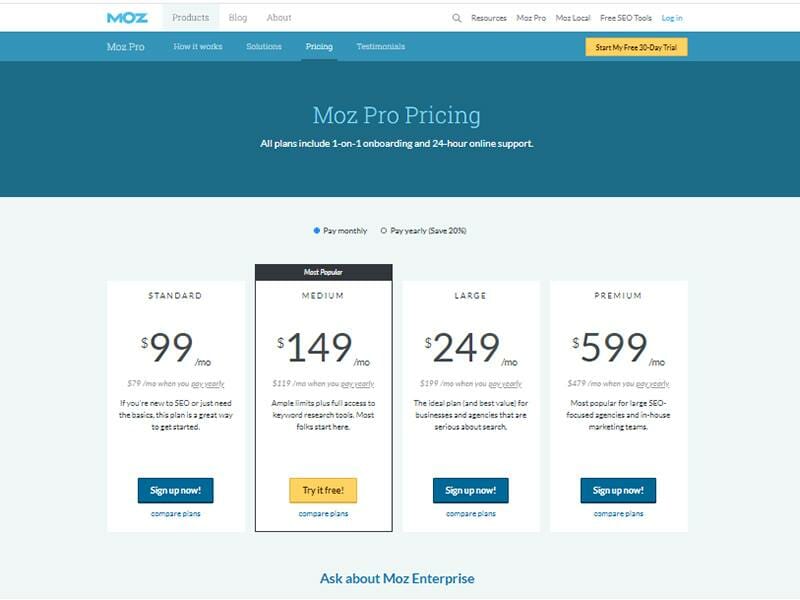 SEMrush:
Features Availability: SEMrush holds a big place in the SEO sector boldly for their high-quality keyword research tools like access to long tale low competition keyword that increases search engine ranking. It has the tracking ability of up to five different competitors and 500 keywords in one subscription. SEMrush has lots of features like the free site and keyword analysis tool for a small company by which you can get the metrics for your domain to analyze your competitor. It has more than 35 features which you can try for free for a limited result. SEMrush always keeps updating its tools and features evolving with time.
Better User Experience: More or less SEMrush can claim themselves in the top number for their user-friendliness. They are very well at mobile for their responsiveness like their web view. SEMrush chrome extension is very much helpful which provides us with plenty of data. You also can use this, just download the chrome Extention and login with your ID then you can find the result in every search in chrome.
SEMrush Academy: You will be astonished to enter the Academy page of SEMrush. Lots of free training waiting for you and not only training you will get a certificate from there which you can use with your CV or portfolio. The courses are Fundamental of SEO, keyword research, Roll of Content, Content Marketing Fundamentals, Digital Marketing, and many more. With the help of SEMrush Academy, you can be a superhero for Digital Marketing. Yes, it's a huge strength of SEMrush.
Moz:
Great Content: You may think, here we are discussing SEO tools but showing Moz's content as a strength. Yes as we know in Digital Marketing or SEO, content is king and that's fitted perfectly to Moz. As we know Moz started their journey with their blogs and high label community and still now it's playing the same role. Even you can think like this, no need to use their tools but read their blogs that will help you a lot to be an expert in this field.
Features Availability: Moz has different types of cool features like site crawling, keyword research, link management, rank tracking, and content marketing. Moz Pro provides a deep level of SERP tracking technology with rank tracking with the addition of stat for the experts. The Mozscape API is another cool feature of Moz. With the Mozscape API, you can do the backlink and content audit in this world's largest link index with 40.7 trillion current links in the palm. Moz also boosts their strength by their Moz local business listing feature. It's a huge opportunity for the business listing in the search engine.
Moz Academy: As we know from the very beginning Moz's big strength is their blogs and community similarly their academic support also countable but almost all are paid. Moz Academy has training programs maximum covering the SEO sector. But their blogs are open for all and you can gather huge knowledge from there. Recently Moz unveiled free courses with promo codes for their community members.
Weakness Analysis:
SEMrush:
Pricing: SEMrush increasing its price regularly for the last few years. This may be their weakness but also proves their popularity. They have a free version but results are limited. So if you want to do your SEO job perfectly you need to have the SEMrush pro tool.
SEMrush starts its price from US$ 99.95/Mo which is named "Pro" for freelancers, startups, and in-house marketers. They are offering US$ 399.95 / Mo for their Business Plan for Agencies and E-commerce projects.
As many experts said considering their features, training, and other facilities SEMrush makes the best return on your investment.
Moz:
Features: Though Moz offers many important features but some of their features like domain authority and backlink features are falling behind over the years.
Lack of User experience: Moz is less intuitive comparing other SEO tools. Its time consuming here to find out targeted features, reports which mean there is lacking data management. Moz's big weakness is not offering a mobile application for multiple devices.
Pricing: Moz offers its price in four categories STANDARD, MEDIUM, LARGE, PREMIUM. They started from STANDARD US$ 99.00/Mo up to PREMIUM US$599.00/Mo. Moz is always rich with its big and high-profile community that likely influences its pricing.
SEMrush is suitable for:
SEMrush provides lots of features along with mobile capabilities all shapes of business like SME, Big Enterprises can be benefitted.
Moz is suitable for:
Moz offers services for both freelancers and enterprises. So anyone can be benefitted taking their services.
Summary of SEMrush Vs Moz:
Now come to the point, which is better in this comparison SEMrush Vs Moz. Ok, both of these tools are highly designed with their cool features. Honestly, if you ask me I will go for SEMrush and the main reason is much easier to use than Moz and also provides more features and CRM-style project management tools which help you to manage link-building campaigns realistically.
If You decide to go for SEMrush here you can go for SEMrush Pro.
Here are the reasons why SEMrush is ahead in the comparison SEMrush Vs Moz:
It is usually easier to use than Moz.
SEMrush using the phone and live chat as their customer support but Moz is using only the email.
SEMrush always ahead with its Auditing Feature.
You will get lots of data from SEMrush for both SEO and PPC. As its covering both areas surely better than Moz.
You can run a great link building campaign using CRM style approach to link outreach of SEMrush but in Moz, you need additionally spreadsheet and email programs often.
SEMrush provides data visualization whereas Moz not.
Moz has also some points better than SEMrush like their blogs, community, cheaper to add seats to Moz plans, backlink compare for 5 sites whereas SEMrush for 4 sites, Moz provides ranking data not only from Google but also from yahoo and bing.
Finally, it is up to you. You will use those tools which will serve your purpose. In this SEMrush Vs Moz comparison, we just tried to explain the strength and weaknesses of both tools. If you think you have any comments pls feel free to knock in the below comments and if you like this article pls share with others.
FAQ
What is the best SEO tool in your opinion?
All SEO tools are good.
What SEO Tools you are using?
I use SEMrush.
How I can buy SEMrush SEO tools?
Here is the link to buy SEMrush SEO tools @ SEMrush Free Trail
End Words
In this article, we have tried to show you the pros and cons of the world's most famous two SEO tools. There are many other alternative SEO tools that also you can use.
Related Articles
Summary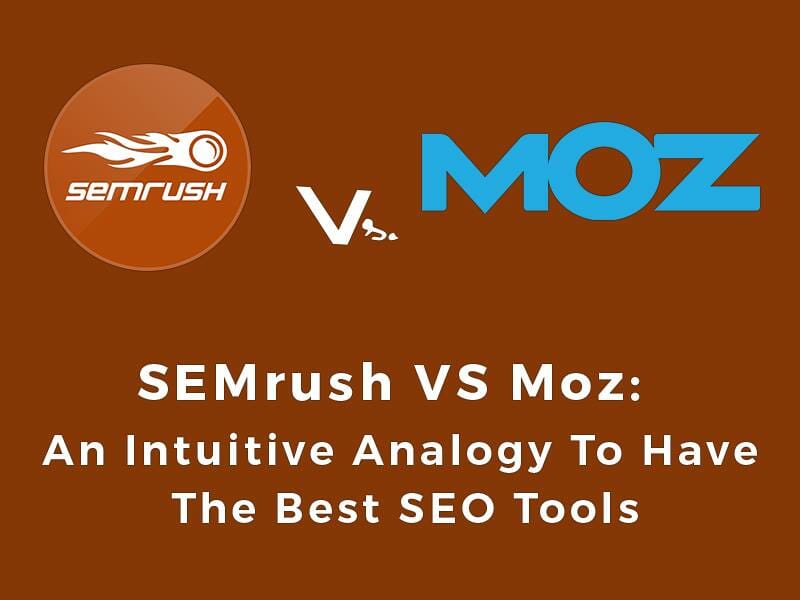 Article Name
SEMrush Vs Moz: An Intuitive Analogy to Have the Best SEO Tools
Description
As we titling, our today's discussion is SEMrush Vs Moz and hope this will help you to decide the appropriate one for your next journey.
Author
Publisher Name
Publisher Logo