Google helps local businesses by showing their address on google search and google Maps. Google reviews help to improve search ranking and overall SEO efforts. In this article, we will talk about the importance of Google reviews for local business.
Let's jump into the deep:
Google shows local businesses in the local areas in the search results as well as google maps. For example, if you are in Balham, London, and looking for restaurants, they will show you the restaurants in the Balham with most good reviews.
If you open Google maps and want to see the Tuition Centers Balham, they will show you tuition centers in Balham with the best reviews in the sidebar of Google maps. Also, they will show you all the tuition centers on their maps.
How Google Reviews Work
Google Reviews is one of the features built into both Google Maps and Google My Business. It allows customers to post reviews about a service provider on Google that are visible to the public. Reviews are based on a customer's experience with a brand after purchasing a product or service.
Studies show that many customers prefer service providers with Google reviews. It gives them a rough idea of ​​the customer experience to expect. Also, Google Reviews is trustworthy because they are original and difficult to manipulate. Brands leave a positive impression on your current and potential customers. As a result, they help companies differentiate themselves from their competitors when it comes to transparency.
Businesses should encourage customers to write reviews immediately after each purchase. At the same time, businesses need to manage Google reviews across all of their platforms. It is advisable to ask customers for their reviews immediately after purchase. In the long run, you will have a few Google reviews on your different platforms. Customers should be logged in for reviewing a business, service, or product. This simplifies the whole process.
You must have at least five Google reviews or more to start earning stars. Stars can be seen on Google Maps, Google Knowledge Panel and GMB listing. With these stars you stand out from your competitors.
Benefits of Having Positive Google Reviews
All companies that work directly with customers benefit from positive reviews on Google. Whether you have a restaurant or pizza shop or work at a local bakery, Google reviews will help you for the following reasons: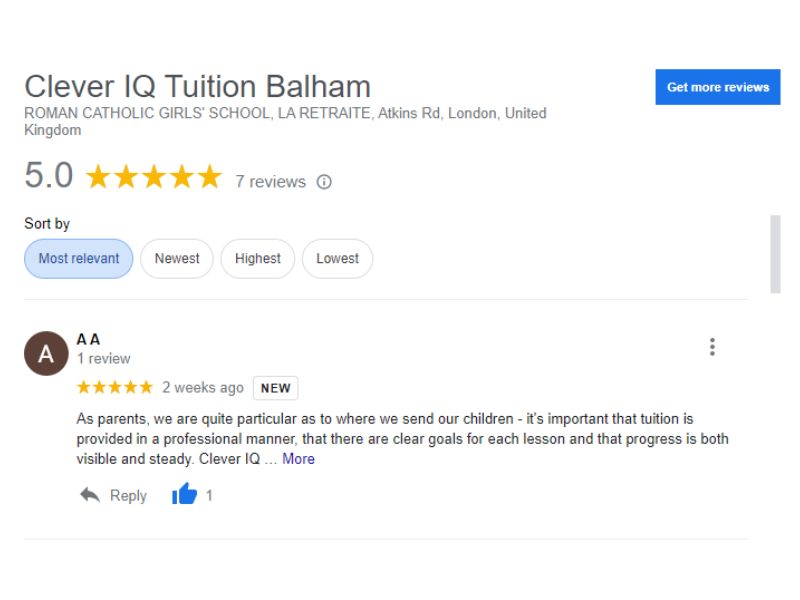 Grow Customers' Trust
The most obvious reason for having positive reviews on Google is to show customers that you can be trusted. Before a client decides to work with you, they want to make sure you are trustworthy and reputable.
Help you rank more prominently in local search
Google takes this reliability a step further by using reviews as one of its local ranking factors. In fact, in the 2020 Whitespark Local Search Ranking Factors Survey, reviews accounted for 16% of the ranking and conversion factors for local packages.
To make its decisions, Google measures the quantity, frequency, variety, and quality of reviews. All of these factors show Google that customers are happy with the services they receive from your business and reward you with higher rankings as a result.
In the same survey, reviews top the list of factors that convince customers to convert to Google SERPs. The number of native Google reviews, the positive sentiment expressed in them, and their numerical value were the most important factors.
Reviews can Help Convince and Convert More Customers
A customer reviews listing optimized for the Google Business Profile is likely to drive potential customers to your small business. The positive reviews get customers closer to the buying stage, and if your business is compelling enough, they can lead to conversions.
For local businesses, a good number of Google reviews can increase customer visits to your location and increase conversions. Reviews build an automatic sales funnel for your business where customer reviews build trust and make your website stand out.
Despite their importance, many companies refuse to promote, respond to, and curate your Google reviews as part of their marketing strategy. But how exactly do you get positive reviews on Google?
How to Get Positive Google Reviews
There are several ways to get positive google reviews. Let's see some tips to get positive reviews and boost your local business:
Ask for Reviews
The best way to get reviews is to ask. And not just some customers, but all customers. So, when you've finished working with a client or are in the middle of a project with a client, ask for a review.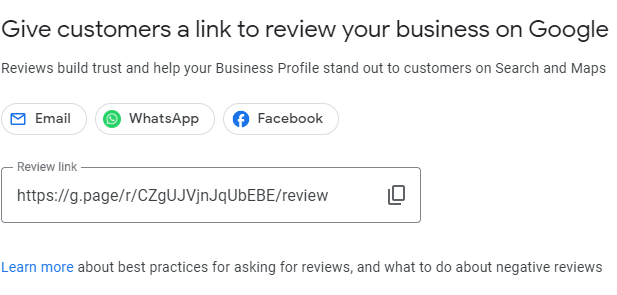 However, remember that it is imperative to request a review at the right time. And the best moment is when your customer is satisfied.
Here are some tips to ask for a review:
Guide the customers on the exact steps to follow to leave a review.
Provide customers with a direct link to your Google Business Profile.
Show some examples of your top reviews so that customers can get an idea of what others have said about your business.
If applicable, give your client a review on their GMB listing or LinkedIn profile to reciprocate.
Asking review is an easy way, but many businesses shy away from asking for a review because they fear they will get a negative review or the customer won't want to leave one. However, you have to take a leap of faith.
Add a Review Link to Your Website
Make an easier way for your customers to leave a Google review by adding a review link on your website or by emailing a personalized link. It simplifies the process as now the customer has to fill in the details without any difficult work.
Use this link on your website as a popup and thank the customer. The idea is to make it easier for them to follow you so they leave your Google review for your business.
Provide Quality Customer Service
One sure-shot way to get more positive Google reviews is to provide great customer service and request them to leave a review voluntarily.
If you can build a good relationship with the customers, provide exceptional service and say thank you for being your customer, you will win their hearts.
Here are some tips to meet customers' needs and make them happy:
Start beyond traditional support and help them personally.
Ask for customers' feedback regularly and work on it.
Find the things you can do better for an improved customer experience.
Train your team members to be polite and empathetic.
Make it easy for customers to get in contact with you.
Humanize your business by expanding your personal support and offering exceptional services to your customers. Once that's done, you don't have to worry about asking for reviews.
Respond to Your Reviews
If your customers take the time to leave you a review, you should respond. No company necessarily receives only positive reviews. There will also be negative reviews. However, the key is to answer both of them with courtesy and gratitude.
Many companies do not react to negative reviews. However, your response to these reviews is important as it shows how much you value your customers and how seriously you take feedback.
Share Your Positive Reviews

You should celebrate all the positive Google reviews your business receives. Make sure to share positive reviews on your business website and social media platforms to remind other customers to leave feedback.
Regularly Update Google Business Profile
When customers go to your Google Business Profile to leave a review, you don't want them to feel like they're in the wrong place. Make sure your customers know they've landed on the right and most up-to-date website.
End Words
Positive reviews are always very important for all businesses. Positive reviews play a vital role to boost your sales. So, it is highly recommended to get positive Google reviews from your customers to enhance your local business as well as local SEO.
Related Articles
Summary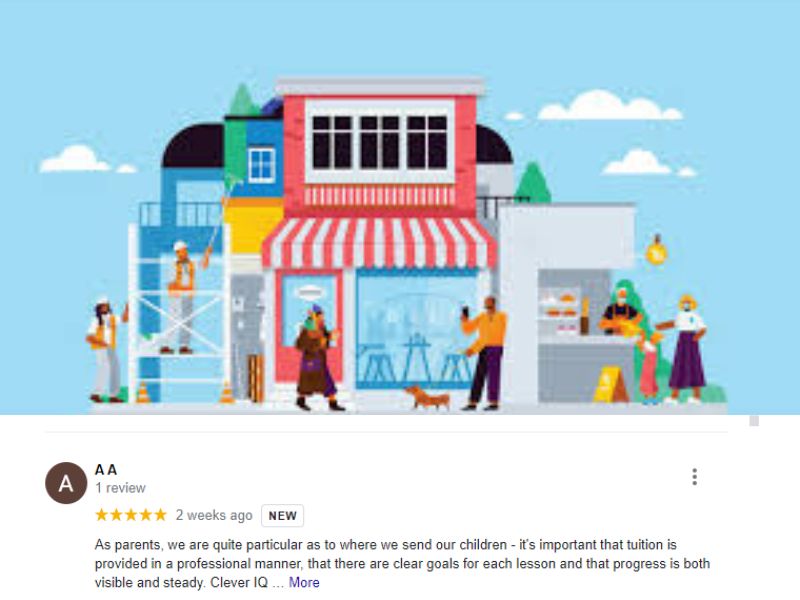 Article Name
Importance of Google Reviews for Local Business
Description
Google helps local businesses by showing their address on google search and google Maps. Google reviews help to improve search ranking and overall SEO efforts. In this article, we will talk about the importance of Google reviews for local businesses.
Author
Publisher Name
Publisher Logo