Connecting the PC to the television is very useful. It allows you to watch movies on your computer on TV, or videos that you have downloaded from the Internet. Or play your favorite game on a big screen.
There are several ways to do it depending on the connectors available on your computer and the TV. Choose the appropriate link below according to your case.
First, see the video connectors on your PC
Normally, you have one of these four. Identify them using the image above if necessary.
VGA
It is the standard in portable laptops and fixed equipment. It is also included in most "flat" and some old televisions. It offers acceptable image quality.
HDMI
It is in the most modern equipment. Also on many LCD televisions. It gives a digital image quality and very good.
The connector can be a normal HDMI, with the largest slot, or a mini HDMI in which it is smaller. The connectors are different but the use is the same. There are adapters to transform one into another.
DVI
It is less common than before. They have some slightly old PCs and some televisions. Its image quality can be good and digital. Also normal and analog. It depends on the type of DVI
S-Video
It is rare to see it in modern equipment. They have some quite old. Also old and modern television. Its image quality is quite bad. It may even happen that the image is seen in black and white on the TV.
The S-Video connector of the PC usually has seven small holes and that of the television only four.
Connect your PC to the Television using VGA
It is easy to do but you have to follow a specific order and take some precautions. Follow these three steps:
Step 1: To connect the video
The connection mode depends on the connectors that the PC and television have. Use the table below to find out which system to use.
There are cases where a simple appropriate video cable is enough. For example, one VGA to VGA or VGA to DVI. They have to have male-male connectors (with spikes or pins on both sides). You can buy them at any physical computer store or online.
In other cases, you need a digital/analog signal converter or vice versa. A simple cable is NOT enough because the video signals are different. For example, to connect a VGA (from the PC) to an HDMI (from the TV) you need a VGA / HDMI analog-digital converter + the cables to connect them to the converter.
PC CONNECTOR
TV CONNECTOR
VGA
DVI-A or DVI-I
HDMI
DVI-D
Components (red, blue and green)
S-Video
Composite video (yellow)
TYPE OF CONNECTION TO USE
VGA to VGA cable
VGA to DVI cable (type A or I)
VGA / HDMI converter + cables
VGA / DVI-D converter + cables
VGA converter / Components + cables
VGA / S-Video converter + cables
VGA / composite video converter + cables
NOTE: If you have several options – several connectors – use those that you can connect with a single cable and give you more quality. From best to worst: DVI or HDMI, VGA, components, S-Video or composite video.
Step 2: To connect the audio
The easiest way to do this is through a simple cable that you can buy at any computer store. There are two basic options:
Use an RCA audio cable
It can have a single plug at the end that plugs into the PC and two more at the other end, one red and one white, which are plugged into the television. Or have two pins (red and white) on both ends.
The plugs must be male and generally 3.5 mm. Buy some with a cable long enough to connect the equipment to the TV without problems.
Use a simple audio cable
It has a single audio jack on each end. Male type and in general 3.5 mm. One end is connected to the audio output (or headphones) of the PC and the other to the headphones input (speakers) of the TV.
Step 3: And finally …
Make the connection in this way to prevent failures:
Turn off the PC and television. Then connect the cables or the video converter between them. AND ALSO the audio cables. Turn on the television and AFTER the equipment (do not do the opposite). Choose the RGB input mode on television. It can also be called VGA or PC mode, among others. On the TV or your remote control, there must be a button to choose that input mode. It can be called "Source", "AV", "Input", etc. Or sometimes you have to do it through the television options menu. Check your manual or search on Google for your specific case. If you are connecting a portable laptop to the TV, you must configure Windows to use it as a second monitor. You also have to do it if your fixed PC is connected to the monitor and TV at the same time.
What to do if nothing is seen, looks bad or there is no sound
Try these solutions in order:
Solution 1:
Make sure you have chosen the RGB / VGA / PC Mode input mode on the television.
Solution 2:
Check that the cables are well connected. Then repeat the same steps to make the connection.
Solution 3:
Change the screen resolution. It is also useful to put the image to your liking. Or if it is cut, deformed or things look too big or small.
Go testing with different resolutions until you find the one that works. In general, you have to set low resolutions when you connect to old TVs (maximum 800 x 600) and higher if you connect to a high definition one.
The idea is that the resolution of the PC is as close as possible to that supported by television (its native resolution). You can find out in your manual or on the Internet looking for your TV model.
Solution 4:
Update the drivers of your graphics and/or sound card.
Solution 5:
Try another connection mode.
Solution 6:
If none of the above works, you may need to buy a new graphics or audio card or other television.
You may like other blog @ How to activate Roku Device?
If you need computer repair service, you can check here @ computer repairs
Related Articles
Summary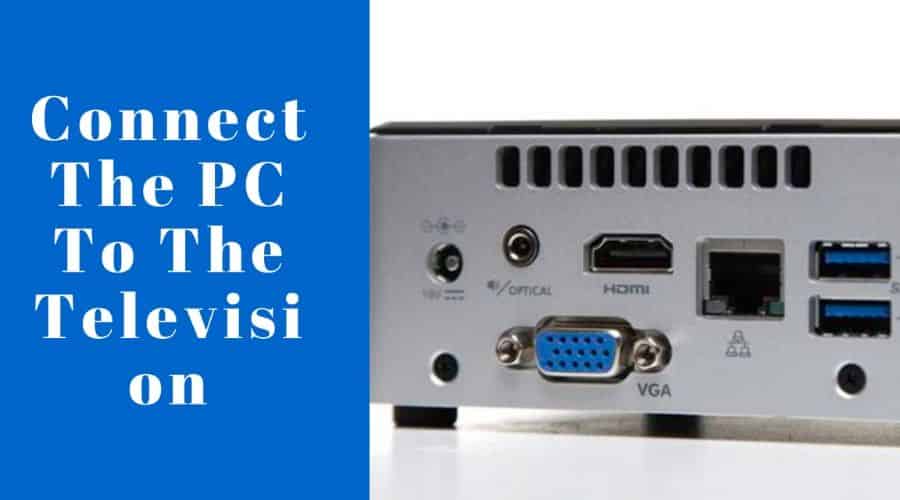 Article Name
How to Connect the PC to the Television
Description
Step by Step Guide to Connect the PC to the television. Connecting the PC to the television is very useful. You can enjoy TV, Videos on your PC.
Author
Publisher Name
Publisher Logo