As an Amazon seller, you must listen to the FBA prep service. FBA prep service is a great opportunity for sellers who are already doing business through Amazon.
In this article, I will describe the FBA prep service and how it works.
Let's jump into the deep.
What is FBA?
FBA means fulfillment by amazon. It is amazon's program and service for amazon sellers. With FBA, Amazon sellers can reach more customers and grow their business. In this program, the amazon sellers will send their products to the fulfillment centers. Amazon will take full responsibility such as pick, pack, ship, customer service, etc.
What are the benefits of FBA?
Fulfillment by Amazon (FBA) offers the following benefits to their sellers as well as to the customers:
Free shipping: in FBA, the seller's products are eligible for amazon prime two-day free shipping, and all amazon.com customers will get free shipping for the eligible orders.
Customer service: Amazon provides customer service on behalf of you and handles all returns for FBA orders.
Opportunities to reach new customers: Programs such as FBA subscribe and save, FBA small and light, multi-channel fulfilment, and FBA export can help to maximize sales and build customer loyalty.
Tools to manage business: The amazon seller who are joining to FBA, can choose the optional services such as product preparation, labeling, repackaging, and amazon partnered carrier options.
Join FBA Program?
You have to be a seller for joining to FBA program. If you have a seller account on amazon, you can join the Amazon FBA program. Then you can add your products to FBA.
How FBA Program Helps You?
Amazon has 300 million active customers. In the U.S they have 90 million prime subscribers. Research shows prime customers spend more on amazon. Regular customer spends $700 a year on amazon. On the other hand, the prime customer spends $1300 a year.
So, if you join the Amazon FBA program, your products will be visible to amazon's prime customers. You can get more sales and earn more revenue.
How FBA Program Works?
In the FBA program, Amazon handles all the hard works for you. It is pretty simple to the sellers who are selling the products to the amazon prime customers through FBA. Here are the steps of FBA working systems:
Send your product to amazon: Amazon has 100 warehouses across the U.S. You have to tell them what products you are sending and they will advise you, where you will ship your products to.
Amazon shorts and stores your products: Once amazon receives you products, they will short it out and stores safely in their warehouse. They will also add your products into their inventory. Now your products are safe. By any chance, if your products get damage in the warehouse, amazon will reimburse you.
Customer order your product: In the FBA program, after sending your product to amazon, the entire process will handle by amazon. When a customer will buy your products, they will accept the payment and update your inventory on behalf of you.
Amazon ships your products: After receiving the order one of amazon's warehouse worker will pick your product from the warehouse, packs it into a box and ships to the customer on behalf of you.
Customer service: After delivery the product to the customer, amazon will take care about customer's feedback, their satisfaction, query, dissatisfaction, return, etc. on behalf of the FBA seller.
Get Paid: Every two weeks amazon calculate your sales, deduct the fees and pay your money to your bank account directly.
What are Your Responsibilities as a FBA Seller?
You should play some role in becoming a successful Amazon FBA seller, such as:
Product choosing: Product choosing plays a vital role in e-commerce business. In amazon there are about millions of sellers and almost everything you can buy. For becoming a successful amazon FBA seller, your products should be fast moving, high demand, low competition, small space require for storing.
keeping your inventory in stock: As a FBA seller, you may have a regular sales. You have to check your stock inventory status regularly, so that, you don't lose any sale due to unavailable of the products.
Marketing and advertising: In amazon there are 350 millions of products in their catalog. So it is highly recommended that you should do amazon SEO, so that consumer can find your products easily.
What is FBA Prep?
The Amazon fulfillment center has some requirements. You have to follow those requirements strictly. Otherwise, you can't send the products to amazon's warehouse. Even your seller account may suspend due to not following their requirement properly.
Regarding the FBA preparation, you have three options:
You can do it by your self
You can pay to amazon, and amazon will do it on behalf of you
Hire third party.
Every option has some advantages and disadvantages. You should choose the option that matches the best of your business requirement.
FBA Product Restriction
Before starting FBA prep, you have to know about the restricted products on the Amazon FBA program. Here are some tips about the restricted products:
Alcohol
Drugs
Any products that require prescription to buy
Currency, coins, gift cards, etc.
Explosives, weapons, etc.
Hazardous products
Gambling and lottery, etc.
Any illegal products
If your products comply with amazon's policy and guidelines, you have to go to the next steps.
Packaging info about FBA Prep
Now you have to know about the packaging requirements of the Amazon fulfillment center. You should follow their requirement before sending the products to the fulfillment center.
The SKU that you use on each product should be unique and should only correspond to a single unique product.
Each unit should have its own barcode. It should be scannable and easily accessed.
If there is any other barcode on the shipping boxes, just remove them. If they cannot be removed, just cover them.
Amazon will not accept products that need to be assembled in order to be sold.
Products that are placed in packaging that is not secured should be secured with tape or some other means.
Footwear should be packaged in such a way that none of its material is exposed.
Units that are sold as a set should be clearly marked as such so they are not separated.
Guideline for Boxed Units
The following policies you should follow for the box packaging:
The box should be six-sided
The box opening should not open on its own easily.
If the lid opens on its easily, then it should be secured with tape.
The box should be sturdy enough so it will not collapse when medium pressure is applied to it.
Guideline for Poly-Bagged Units
You should follow the following policies for poly-bagged packing units:
Poly-bags with openings that are 5 inches or wider must have suffocation warnings.
Minimum thickness of the polybag should be 1.5 ml
The polybags should be transparent and clear.
The poly-bags should be sealed properly.
The poly-bag should not project more than three inches more than the dimension of the product.
Guidelines for Case-Packed Products
If your products are case-packed, you have to follow the policies as follows:
Products that are in a box must have matching SKU.
Products in a box should have been placed there by the manufacturer.
There are 150 units per case limit for packing.
Smaller case packs can be put together in a larger master carton.
When these types of products are received in a fulfillment center, only one sample will be scanned and then the whole box will be stored. This is why all the products within the case should be the same.
Expire Date Policy
There are some consumable products that require expire date. Below is the guidelines for expire date products of amazon FBA:
The expire date should be written on the master carton and on the individual units clearly.
If a product has a container that requires additional prep like a jar, for example, the expiration date label should be readily accessible.
Format for expiration dates: MM-DD-YYYY or MM-YYYY
If your business is all about selling topical or consumable products, then you should familiarize yourself with Amazon's policy regarding expiration-dated inventory. All products that are for human and animal consumption are considered to be subject to expiration by Amazon FBA.
Choosing the Right FBA Prep Service
If you can do FBA prep by yourself, it is the best option. But it can be very difficult to handle all the things by yourself. Using amazon's prep service is more costly. You can also hire a third party for FBA prep service.
Here are some tips to choose the right FBA prep service:
Pricing
Location
Sales Tax
Storage Facility
Processing Time
Inspection
Climate
When you will get the above points positively to your business from a third-party FBA prep service center, you will select that company for the third-party FBA prep service.
End Words
Many people are doing business with Amazon as a seller. Amazon FBA offers you a great opportunity to boost your sales on amazon. FBA prep service will help you to work successfully on the amazon FBA program.
Related Articles
Summary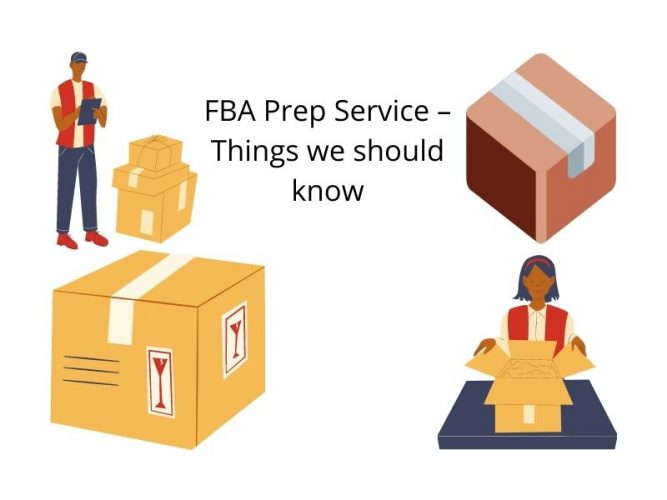 Article Name
FBA Prep Service – Things we should know
Description
As an Amazon seller you must listen about FBA prep service. FBA prep service is a great opportunity for the sellers who are already doing business through Amazon.
Author
Publisher Name
Publisher Logo