Digital marketing is the secret to ensuring success in your business. We've heard a lot about Facebook and Twitter for views and customer interaction. However, according to studies reported in marketing journals, emails have the highest ROI available than any other marketing medium. Here I'm showing the top 8 email marketing tips and tricks.
Email marketing is a vital concept of the internet marketing strategy that is frequently undermined by other social networking methods. It was also the first marketing tool available while the Internet was in its beginnings.
Using an Email marketing tool means sending promotional messages concerning your company to a group of customers via email. It is a more direct marketing approach in building brand recognition, increasing sales, attracting new customers, and improving business confidence. It is also reliable and cost-effective.
Keep reading to find out inbox-tested email marketing tactics that creative senders have used to get clicks on their newsletters.
But, before getting started, let's define what exactly Email marketing is?
What is Email marketing?
Email marketing is the process of sending optimized email messages to targeted customers. It involves the process of designing, evaluating, and managing promotional emails.
Email marketing can boost sales, enhance brand loyalty, and provide valuable details to the customer.
It's a direct marketing method, similar to snail mail marketing. Still, email marketing is much more useful for your budget and the environment as it's entirely paperless!


Benefits of email marketing
Email marketing is used by thousands of organizations of all sizes around the globe. Many companies unfamiliar with this marketing strategy may not instantly understand why it is so common among businesses in various industries.
Email marketing is one of the few ways that users are asked to receive. Many platform-based companies only send messages to those who have signed up to receive them. This can lead to even higher conversion rates. The company only targets those who already have an interest in their brand.
It's nice to take advantage of impulse buying. Few other marketing channels allow consumers to switch from seeing an offer to buying an item within two clicks of a button. With an enticing call to action and a direct connection to the checkout, email newsletters can boost sales like no other platform.
The best part of email marketing is that it is cost-effective, attractive, and increases your sales in less time than other marketing platforms.
You may not think of SEO as an email marketing benefit, but these two types of marketing may help each other out.
Links to your website from a reputable external webpage may have a positive effect on your SEO. This tells search engines that you are respected by people.
If you post content from your website to your emails, you increase the chance that anyone who sees your emails will connect to your content.
Let's find out tips and tricks of Email marketing
Build your email list
Suppose you have begun from scratch or obtained a list of email addresses. In that case, it is essential to check that any name on that list has been added organically and by the individual's own choice and approval.
It may not be the quickest way to create a broad email list. Still, it's the way to compile a dedicated recipient base and keep the email delivery rates as high as possible.


Identify your audience
Identifying your target audience to write a copy of email marketing that suits their needs is a perfect way to improve conversions.
Using what you know from the site and social analytics, and consumer experiences to build up your buyer personas or customer animations. When you know your clients, it's easy to write an email marketing copy that makes them want to click on it.
Write an attractive subject line
If you're curious how to get email marketing right, the best way to start is by an email subject line. Optimizing the subject line can be the difference between recipients reading your email, deleting it, or, worse, labeling it as spam.
People open your emails if they know they're going to benefit from it, if they're concerned about missing out, or if you're providing persuasive proof of why they should.
Make your emails valuable
If your email doesn't provide value, it will be overlooked. This will impact your open rates as well. Any information you send out must be relevant to your email list.
You can send emails and plan to make sales only if you highlight the value of quality. Since not everyone can become your client on your email list. After receiving your emails, only a proportion of prospects can press the 'order' button. Try a balanced combination of quality content, promotions, and offers. Finding the right balance will make a difference in the number of sales you make in the long run.
Transactional emails
This form of email is typically automatic and activated by the actions of your customers. Examples of transactional emails include welcome messages, order tracking, receipt of orders, confirmation of registration, etc.
Don't underestimate the potential of those messages. If you sent a transaction email to a client, they have completed at least one activity that means that they are very likely to communicate with you again. These are trusted emails, which means they have higher open rates and opportunities for engagement and cross-selling.
Operational emails
These are emails containing vital information about your company, such as holiday closures, maintenance plans, or adjustments to your service availability. It's easier to ignore an operational email if you don't think it will affect your sales. Still, it's essential to be consistent for trust, dedication, and thoroughness.
Again, there is secret meaning in these messages as well. While they may seem purely educational, they can be built to boost your sales and image. For example, if your service will go down for maintenance, outlining what kind of changes you're going to make is a great way to remind your clients about the value you're offering them.


Keep it a little brief and to the mark
Although Statista emails are like mini-reports to themselves, most marketing campaign emails should be even shorter. This is particularly true if you are promoting an article or a video. Note, an email marketing campaign aims to get subscribers to click on your link. Give them just the smallest and most juicy piece of content that will make them want to learn more about your company.
Email marketing campaigns should not be longer than three sentences. Only enough to give them a taste for what you do without giving away too much.
Try various formats and techniques for formatting.
If you've decided what content you're going to use in your email marketing campaign, take the time to play around with various formats and styling techniques for your messages. Your visual appearance has a significant influence on how your audience interacts with your brand. Members of your audience are more likely to read emails that are user-friendly and follow a certain level of attractiveness.
Conclusion
The email marketing tips we mentioned above will seem simplistic at first, but you will see successful results once implemented. Try taking a step-by-step approach to improving your email marketing. It's not going to happen immediately, but it's going to get better if you take the right measures at the right time. The email marketing strategies can only be profitable if you take care of the information that makes up the big picture.
Suppose you need some guidance in implementing these email marketing tips. In that case, InAndOut Digital has a fantastic team committed to growing your sales with captivating email marketing campaigns. Contact us today to see the leads that InAndOut Digital will bring to your emails.
Related Article
Summary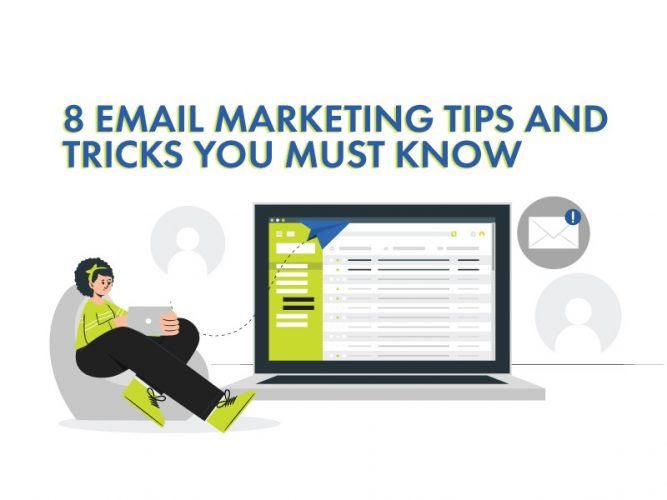 Article Name
8 Email Marketing Tips and Tricks You Must Know
Description
The email marketing tips we mentioned here will seem simplistic at first, but you will see successful results once implemented. Try taking a step-by-step approach to improving your email marketing. It's not going to happen immediately, but it's going to get better if you take the right measures at the right time. The email marketing strategies can only be profitable if you take care of the information that makes up the big picture.
Author
Publisher Name
Publisher Logo