The competing nature of humans is never going to fade away. Survival of the fittest has been considered a norm in every industry and the eCommerce space is no exception. One must adopt the best market trends and technologies to get through them. Well, in the following post, we won't be focusing on the trends but on the technologies. Yes, choosing Magento or WordPress can assist your business in sustaining the competition, and that too for the long haul. In this article, we will talk about Magento vs WordPress.
Let's jump into the deep
WordPress and Magento are the two most powerful, scalable, and open source platforms mainly used to build dynamic, robust, and intimidating websites. There has been a lot spoken about Magento vs WordPress, and this guide is no different but still by the time you finish it, you will be able to make the right choice between the two. So without any delay, let's get started!
Magento Development
The eCommerce businesses are seen evolving at a fanatic pace. Not to mention that the industry has successfully revolutionized the way we shop. I mean I don't remember stepping outside to buy groceries or apparel and attires or booking movie tickets, etc. So yes jumping on the bandwagon of this massive progressive market can be quite profitable.
One of the main and popular reasons behind the success of your eCommerce store is the choice of your platform. When we talk about eCommerce platforms (the popular ones) Magento is the best one to take into consideration. After all, it comes with a bunch of rich and powerful features and functionalities that aid all kinds of small, medium, and large-scale businesses.
Magento is an open-source CMS (Content Management System) that enables business owners to grow virtually. Initially, it was launched back in 2007 and was successfully acquired by eBay and Adobe. Not to mention the eCommerce platform has managed to win several awards and recognitions over its tenure to date.
So what exactly does Magento offer? Right from a flexible shopping cart system to SEO-friendliness, catalog management, marketing, and so forth! Have you wondered why hundreds and thousands of businesses rely on Magento as an eCommerce platform? Due to high-end scalability. Not to mention here you will find a wide range of plug-ins and themes, multi-source inventory, support for 50+ payment options, Amazon and eBay integration, and so forth. Top well-integrated features of Magento include:
Catalog Management
Order Management
Search Engine Optimization
Marketing and ads
Easy Check-Out
Payment Modes
Analytics and Reporting
Security
How is Magento Beneficial for Your eCommerce Store?
The open-source platform offers maximum customization and that's one of the core reasons behind its immense popularity. Now here comes the big question, is Magento the right choice for your business? How is Magento more beneficial than other eCommerce platforms?
#1 Feature and Functionality-Rich
One of the obvious reasons behind the popularity of Magento is that the eCommerce platform is powerful enough to cater to your needs and priorities. Here managing hundreds and thousands of products is no big deal. Now if you have already been acquainted with Magento then performance and scalability are simply not a concern for you! Features like catalog management or inventory management can be used to make website management easy. Here you won't just be setting up filters and navigation but also end up boosting conversion rate and enhancing altogether the performance of your site.
#2 Enhanced Shopping Experience
Another significant benefit of considering Magento over other eCommerce platforms is that here you are bound to offer your end users an amazing shopping experience. Some of the core features of Magento include upsell and cross-sell features, stock availability, price countdowns, discounts, and coupons. Also, this surely increases the potential of order value.
In fact, how about adding promotional value to the checkout page and surprising your end-users? This surely results in reducing the cart abandonment rate, compelling customers to buy.
#3 Customization
Another advantage of Magento is its high customization. When you customize the website, everything has to be coded virtually right from scratch. Fortunately, there are specific design themes available, however, you can hire a reputable Magento development company to ensure that the developed website is more unique and customized. Ask them to provide payment, shipment, accounting, payment processing, shipping, extensions and site optimization, and language options. I am sure you will come across a wide range of plugins available in the Magento Marketplace.
With customization, you can save ample time, improve user experience, wider audience reach, transparent procedures, multi-store handling facilities, and whatnot!
#4 SEO-Friendly
Do you just want to develop an eCommerce site just for the sake of it? Of course not! Do you want your eCommerce store to be ranked easily? Well, Magento is one eCommerce platform that assists businesses in generating SEO-friendly URLs. Not to mention, Magento features responsiveness. This surely makes it compatible across devices and browsers.
So on and all, SEO friendliness, and responsiveness, lead to excelling at customer experience.
#5 Security
Another advantage of Magento development is high-end security. The eCommerce platform offers the best when it comes to security. With so many security breaches happening day in and day out, incorporating security has become a norm for eCommerce websites to succeed. Try creating secondary passwords and prevent your site from unexpected security breaches.
Here CAPTCHA and PCI Data Security are being used to enhance protection levels. Consider login screens with Google reCAPTCHA and a secondary password to avail extra security against unusual breaches and attacks.
Now enough about Magento, it's time to greet our very well-known content management system named WordPress.
WordPress Development
WordPress is one of the most prominent content management systems available mainly used to build as well as maintain a website. Anyone can create a website using WordPress no matter whether you are technically sound or not. Whether you want to develop classic blogs or an eCommerce store, WordPress offers it all.
What exactly does WordPress offer?
A code-free environment that is cost-effective
Tools that are easy to learn and get started with
High-end support from developers and the WordPress community
A simple layout
So does this mean that WordPress is purely for beginners? Of course not! The beauty of the eCommerce platform lies in its ability to scale among its end users. Having such a platform by your side whatnot can be done from creating simple-looking blogs to developing complex-looking websites and online stores. No wonder with platforms like these, the sky is certainly the limit! What exactly can be developed using WordPress?
Online portfolios
Affiliate websites
eCommerce stores
Community hubs
Business sites
News portals
In fact, you don't have to be sure about what you want to create. With WordPress, you can always begin taking small steps and scale up within a short period. Further, I would like to mention some of the crucial benefits of using WordPress. More or less, how WordPress is good for creating an eCommerce store.
Why is WordPress beneficial for businesses over other eCommerce platforms?
WordPress is another prominent eCommerce platform that has earned the title of robust content management system and user by top brands naming Mashable, BBC, TechCrunch, Bata, and CNN. Of course, Magento turns out to be a great choice but WordPress is no less when it comes to developing profitable online stores.
Further below I would like to mention a few crucial reasons to keep in mind for your eCommerce virtue.
#1 Open Source
One of the obvious benefits of WordPress is that the platform is open source and is available free of cost. The open source feature enables WordPress developers to modify as well as utilize the software to serve all your crucial eCommerce needs. You see most businesses are found surrounded by commercial limitations and restrictions imposed by vendors.
#2 Adding eCommerce functionality
Another intimidating feature is adding eCommerce functionality. WordPress offers a wide range of plugins and functionalities that can surely assist in crafting the website. Today, more and more businesses are found craving for developing eCommerce websites and WordPress is one such platform that assists you well in selling products seamlessly.
One of the best eCommerce plugins offered by WordPress is WooCommerce. And do you know why? It offers:-
Creating eye-catching storefronts
Optimizing web pages
Customizing product pages
Multiple Payment Gateways
Shipping Options
Calculating Taxes with ease
#3 Cost-effective
WordPress is an open-source platform that turns out to be a cost-effective option in comparison to other platforms. Whether you are trying to develop a small size or a large size store, it is pretty easy to set up an e-commerce store.  It offers easy-to-use features so that you can focus on your core competencies. With a few clicks, WordPress developers can seamlessly transform your website like no other platform.
#4 Smooth Integration
Another major benefit of WordPress is here you can integrate as many eCommerce or third-party plugins as you can. You see converting your existing site to eCommerce is not as difficult as it sounds. Try installing a plugin like WooCommerce and you can reap all the major benefits. With such seamless and smooth integration, you can offer your store a great look and feel.
#5 SEO-Friendly
Much like Magento, even WordPress is SEO-friendly. By using the eCommerce platform, your end users will be easily able to find you on Google and optimize the site to such an extent that it ranks at its best. Try using plugins such as YoastSEO so that there is no issue in creating an SEO-friendly site.
With more and more of your pages being SEO-friendly, you can increase the likelihood and rank relevantly. In addition, WordPress drives qualified prospects to your page.
Magento Vs WordPress – A Detailed Comparison
I am sure by now you must have concluded that both the platforms are open source, robust and scalable and of course, worth considering when it comes to building a dynamic eCommerce website. So what is the difference and how to choose either of the two correctly? And since I have already mentioned the pros of using both platforms, it's time to spot the difference.
Factor 1 – Easy to use
Of course, there is no denying the fact that WordPress is way easier to use than Magento. I mean you don't need to carry any technical expertise to create a website using WordPress. And that's one of the core reasons why this platform is highly accessible by both beginners and developers. Professional developers having an experience of maybe one or two years are geared more towards Magento. Out of 5, Magento lies at 2.5 whereas WordPress is 3.5.
Not to mention that Bluehost offers one-click installation for WordPress and For Magento, you can consider SiteGround.
Factor 2 – The Purpose
What is your sole purpose? Of course, creating an eCommerce store, right? Well on that note, Magento turns out to be extremely power-packed when it comes to selling products online with ease and expertise. Although, WordPress is no second but Magento incorporates some of the most intimidating sale features such as:-
Check out recently viewed products again and again
Compare them
Shipping can be done at free of cost
Different prices can be quoted to different kinds of customers especially wholesalers and retailers
Multiple images can be added
One-page and seamless checkout
Of course, even WordPress offers such features however the only difference is that the platform doesn't incorporate all of them. You are supposed to buy different plugins and software that will certainly assist you in driving sales.
Factor 3 – Customization
Another interesting factor that must be taken into account is high-end customization. It may quite interest you to know that both WordPress and Magento do possess strong design capabilities. Yes, here you will come across a wide range of ready-made themes that don't require any kind of coding. However, being ready-made certainly doesn't mean that they cannot be customized or personalized. Just ensure to hire a great team of Developers and designers who know their job really well and have the knack for delivering the best possible outcomes for your business.
In comparison to Magento, customizing WordPress themes is way easier.
Magento vs WordPress – Any Similarities?
Is there any factor where both the eCommerce platforms excel at? Yes, of course! Security is one such factor that these two platforms seem to have thoroughly excelled at. Most non-techies have this misconception that Magento is far-fetched when it comes to security. The truth is both Magento and WordPress are highly secured since their respective hosting providers Bluehost and SiteGround do offer free SSL certificates. All the information being sent is highly encrypted and safe to use.
Apart from security, comes the community. Since both the platforms are highly popular. They do comprise large and active communities. So even if your developer gets stuck in between, he can easily approach the community for relevant assistance. If you don't believe me, check out the official forums such as Quora, Reddit and of course the websites.
Final Verdict
So which one is better – Magento vs WordPress? Well both of them turn out to be par excellence when it comes to developing robust, scalable, dynamic eCommerce stores. So the answer is – it depends on your needs and requirements.
We hope the following article did succeed in justifying its title. However, still, I would suggest you make a detailed comparison between the two by hiring a reputable web development company around. So that's all for now! In case, if you have any doubts or queries, feel free to mention that in the comment section below.
Read More Articles
Summary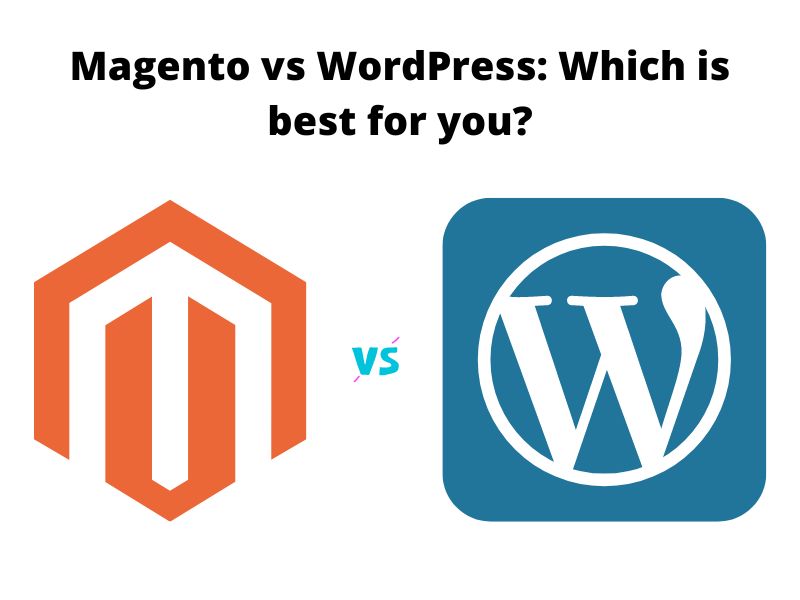 Article Name
Magento vs WordPress: Which is best for you?
Description
There has been a lot spoken about Magento vs WordPress, and this guide is no different but still by the time you finish it, you will be able to make the right choice between the two.
Author
Publisher Name
Publisher Logo