In the year 1997 yahoo mail started its services and since then it becomes the most dependable mailing service though many competitors are working in the same field. Many prominent people are using yahoo mail as their primary mail address. On the other hand, Microsoft started outlook in the year 1996 as a personal information manager. In the year 2012 outlook was relaunched by their founder Microsoft with a lot of new features. In this article, I will show you how to set up yahoo mail on outlook.
Let's jump into the deep
Over the years, the mail service has seen a significant rise in its users which has led to cutthroat competition among top mail service providers to become the best in the market by providing state of the art features with a stable yet easy to use interface in order to dominate the electronic mails scene. Although many have tried, only a few succeeded in leaving a mark on the users. Yahoo mail has been one of the oldest and probably the most prominent email platforms providing its users a top-notch user interface with easy-to-use and exclusive features. Its loyal users have been benefiting from its superior services for more over than a decade now. But all good things must come to an end and so was the case for the users of Yahoo mail with the windows 10 version, since Yahoo discontinued its webmail services application for windows 10, leaving its users with the web experience itself. If you find using the web to manage your emails discomforting, you can use other email providers for a better experience, like the desktop version of MS Outlook.
Not only will it provide a better experience, it also has a wide range of features alongside other advantages over the web version of Yahoo.
Steps to Configure your Yahoo Mail on Outlook
In today's blog, we bring you the simplest of guides to walk you through the steps to set up Yahoo mail Outlook 2016 that is available with office 365. You can also use these steps to configure your account in office 2013.
Option 1
Sign in to your Yahoo mail account via your web browser.
Next, you will find a "menu" option on the top right side of your screen.
Select "account info".
Now, click on "account security".
Next, turn on "allow apps that use less secure sign in" switch.
This option is only available if you have not authorized two-step verification on your account. If not, then you will have to make a new app password before you can continue. Given below are the steps by which you can make the app password.
Option 2
Click on the Outlook application.
Click on info
Select the "add account" option.
Now, select the "manual setup" option.
Next, select the IMAP or POP option.
Next, add your account and Yahoo mail server information.
Your first and last name
Add your appropriate email address
Your account type, be it IMAP or POP.
Add your outgoing mail server (SMTP).
Your username.
Your application password.
Now, click on the "more settings" option.
Select and open the "outgoing server" tab.
Now, check and select the "my outgoing server requires authentication" option.
Now, open the "advanced tab" and use these four settings.
Incoming server: 493
Outgoing server: 465
Type of encrypted connection: SSL
Click "ok" and then click "next" to finish the configuration process, it may take some time
Click "close".
Now, click on finish.
Once you have completed these steps, the process of syncing your account with Outlook begins. You can now manage your mail without any fuss.
If you still face any difficulties while setting up your Yahoo mail account on Outlook, try to check the settings or make sure that you have not skipped any steps.
In a case where you don't enjoy managing your mails via the web version of Yahoo and you don't have the access to the desktop version of Outlook, you can use the mail app available on Windows 10 to send and receive mails just by following a few simple steps.
Steps to Generate App Password if Two-Step Verification is On
Take note of the fact that if you have authorized two-step verification, your password won't work and you will have to create a new password for your account on Outlook 2016.
Sign in to your Yahoo mail via your web browser.
On the top right side of your screen you will find a "menu" option.
Now, select the "account info" option.
Select the "account security" option.
Now, generate the app password link.
Now, select the "Outlook desktop" using the drop down menu on "app passwords".
Click on the "generate" button.
Now, select, then copy and paste the given 16-digit password. Make sure to not to enter spaces between the group if you are typing the password.
You have successfully created a new app password.
With the help of these steps, you can enjoy your Yahoo mail on Outlook. If you find it difficult or face any technical issues, you can try to reconfigure the Yahoo mail Outlook settings in order to access over-the-top features combined with a user-friendly interface to have the best experience. For more queries, you may contact help and support services that are at your disposal.
End Words
In this article, I have described how to set up a yahoo email on Microsoft outlook. I hope it will help you to solve the problems while you try to set up yahoo mail on outlook. If you are unable to set up yahoo mail on outlook, you can contact yahoo mail support for solving the issues.
Related Articles
Summary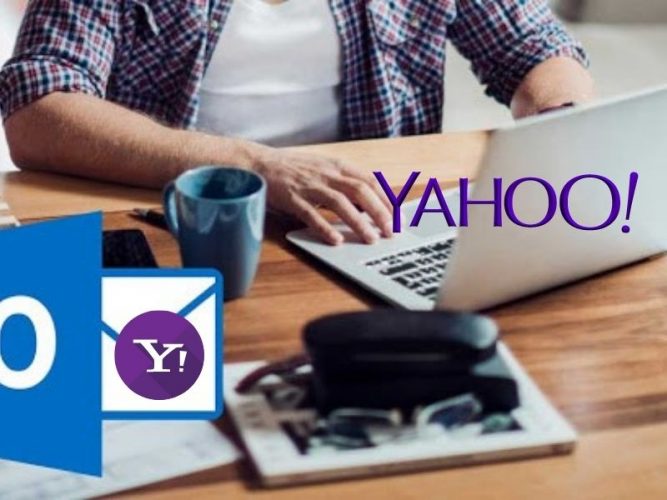 Article Name
How to setup yahoo mail on outlook
Description
In 1997 yahoo mail started their services. On the other hand outlook relaunched in 2012. In this article I will show you how to setup yahoo mail on outlook.
Author
Publisher Name
Publisher Logo